Enjoy the Convenience of Multi-Currency Cash Passport Prepaid Travel Cards
Jacquelyn
October 16th, 2019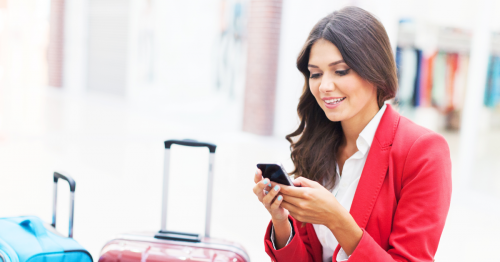 Ordering foreign currency is easy with OnlineFX.
Be aware, effective Monday, April 26, 2021, Multi-Currency Cash Passport Prepaid MasterCard is terminating its services in the US and ending its agent relationship with CXI. CXI will no longer offer Multi-Currency Cash Passport.
For balance inquiries or support questions, please contact MasterCard Passport's Servicing Center, they will still be operating and available to assist with paying out balances.
Visit our international traveler's solutions page for all available services we provide.
American Express Traveler's Cheques
You may or may not have heard that CXI recently stopped selling American Express Traveler's Cheques (both USD and FX) at our retail branches. Over the past couple of years, the demand for this service has declined significantly as more convenient options to pay internationally have popped up.
What's more, is the fact that the number of retailers that accept Traveler's Checks as a payment method has also decreased substantially - meaning you would most likely have to exchange your checks for banknotes to be able to buy certain items abroad. A hassle and burden that shouldn't be placed on travelers.
For anyone who has ever traveled internationally, you know how important it is that you have a method of payment that can actually work and grant you peace of mind. This is where we strongly recommend a multi-currency cash passport prepaid travel card as an alternative to the endangered species we know as the "travelers check".
What is a Multi-Currency Cash Passport Prepaid Travel Card?
The savviest and seasoned international travelers already know that a Multi-Currency Cash Passport (MCCP) is one of the safest, most convenient ways to carry foreign currency. This is a prepaid travel card built specifically for international travelers. For starters, if lost or stolen, you can get a replacement MCCP card or emergency funds from your cash balance through the MCCP card services team*.
These international travel cards can also hold up to six different foreign currencies, so if your next excursion abroad goes from the UK to Europe or even Japan to Australia, you're covered. MCCP also offers an additional layer of security in that 1) they're not tied to your bank account at home so your account information can't be exposed by fraud and 2) they come with security chips and the ability to add a pin to the card. Moreover, if you enjoy the convenience of monitoring your spending, you can view your purchases and transaction history online to keep a solid budget throughout your trip. It's that simple.
Benefits of the Multi-Currency Cash Passport
Lock in your exchange rate at the time of purchase and travel with ease
Your funds will be protected by CHIP and PIN features
24/7 card services support*

Hold up to six of the most popular foreign currencies at one time

Reloaded or cash out at any CXI location
Use your card at over 2 million cash machines and over 35 million international locations - anywhere that accepts MasterCard
Your cash Passport will identify the local currency and pay using your pre-loaded funds in that currency without paying network-based exchange rates
View your transaction history and balance online
To recap, you already have enough to worry about before you travel internationally, why not use one of the best tools expert travelers recommend? Start traveling with more convenience and security today with MCCP - the perfect travel companion to foreign cash.
*Subject to network availability.
**Subject to additional terms and conditions https://www.multicurrencycashpassport.com/us/terms-and-conditions/
Multi-currency Cash Passport Prepaid MasterCard is issued by MetaBank™, member FDIC, pursuant to license by MasterCard International Incorporated. MasterCard and the MasterCard Brand Mark are registered trademarks of MasterCard International Incorporated. MetaBank does not endorse or guarantee the products, information provided in the linked sites, and is not liable for any failure of products or services advertised on these sites.
See more blog posts >

Subscribe to platinum passport >
About Currency Exchange International
Currency Exchange International, CXI, is the leading provider of comprehensive foreign exchange services, risk management solutions and integrated international payments processing technology in North America. CXI's relationship-driven approach ensures clients receive tailored solutions and world-class customer service. Through innovative and trusted FX software platforms, CXI delivers versatile foreign exchange services to our clients, so that they can efficiently manage and streamline their foreign currency and global payment needs. CXI is a trusted partner among financial institutions, corporations and retail markets around the world. To learn more, visit: www.ceifx.com