The Cheapest Months to Travel to The Most Breathtaking European Destinations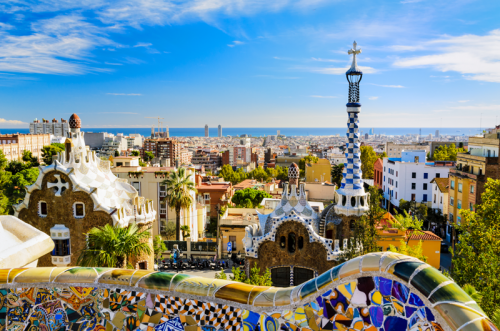 Ordering foreign currency online is easy with OnlineFX.
With summer break quickly approaching, you may have realized it's time to start booking that family or solo trip. If you're looking on taking that trip to Europe this summer, we have got some tips on the best months to travel to each city.
But make sure you start booking those plans soon! Booking your flight tickets eight to ten weeks out from your trip will ensure you the best deal, according to Travel and Leisure.
Positano
If you're thinking of heading to the Amalfi Coast this summer, June is the month to go. Just a twenty-minute drive from Sorrento, Positano offers some of the most glamorous beaches in Italy, such as Spiaggia Grande. Make sure to plan your trip before prices spike in July.
Edinburgh
While August is Festival month in Edinburgh, you'll want to plan your trip for June to save around 29 percent on expenses. Plus, keep in mind these festivals will make the city much more crowded in August causing booking a hotel to become a hassle. Visit in June to enjoy warm weather while you take on the beautiful sites of Edinburgh.
Dubrovnik
If you're looking for a great place to enjoy with the whole family, head over to Dubrovnik this June. Lined with white limestone streets and historic forts, Dubrovnik is captivating. If you want a see a view of the city from above, hop on the cable car that take you just north of the city walls of Mt Srd.
Amsterdam
Amsterdam is a great trip to book for groups. So, if you're looking for the perfect destination for a group of friends, make plans to go to Amsterdam in July. With its elaborate canal system, you can enjoy a lovely stroll or float down the canals in a boat tour.
Stockholm
If you're looking for some extra hours of daylight, be sure to visit Stockholm in July. With long days and short nights, you'll have even more time to take in the sights of Stockholm. The temperature stays pretty moderate over summer between 68 and 71 degrees Fahrenheit.
Midsummer, Stockholm's biggest celebration of the year, falls in June, so prices fall back down at the start of July making this the perfect time to plan your trip.
Bruges
Another destination to visit in July is Bruges. Bruges is full of monuments and architecture, museums, historic sites, and of course, shopping. You can also check out some of the award-winning restaurants such as Auberge de Herborist which has its own garden full of healing and edible herbs.
Barcelona
Barcelona will be a great deal all summer long, but you'll find it to be the absolute cheapest in August. Not only can you get good deals on flights and hotels, but you'll find great prices for food in Barcelona. Eat at La Boqueria market for a great meal at a small price.
Berlin
While you'll find some European capitals to be a little deserted in July and August as that is when many locals take their vacations, Berlin is extremely alive during this time. In August Berlin holds both its International Beer Festival and International Dance Festival. This makes it a perfect time to visit!
Madrid
Traveling to Madrid in August can save you 21 percent over a trip in June. Now, while the summer months are known to be extremely hot, there is plenty to enjoy over summer. Try the Spanish summer favorite, gazpacho, and enjoy an afternoon on a rooftop terrace where you can find the best breeze.
Whether you want to book a trip very soon in June or you're getting a head start on your August plans, keep in mind the best months to find a good deal to these popular European destinations. We hope you find yourself enjoying one or many of these affordable summer destinations.
About Currency Exchange International
Currency Exchange International (CXI) is a leading provider of foreign currency exchange services in North America for financial institutions, corporations and travelers. Products and services for international travelers include access to buy and sell more than 90 foreign currencies, multi-currency cash passport's, traveler's cheques and gold bullion coins and bars. For financial institutions and corporations, our services include the exchange of foreign currencies, international wire transfers, global EFT, the purchase and sale of foreign bank drafts, international traveler's cheques, and foreign cheque clearing through the use of CXI's innovative CEIFX web-based FX software www.ceifx.com