The Best Gift Card Idea of 2021/2022 – Bitcoin (BTC) and Ether (ETH)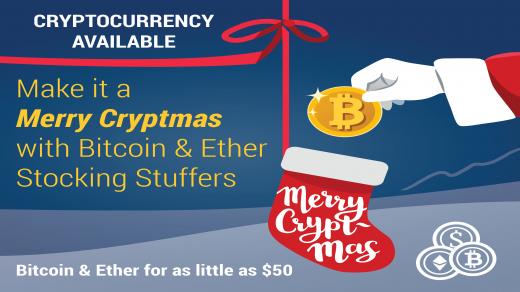 The easiest place to buy cryptocurrency in person.
Buy Bitcoin and Ether cryptocurrencies this holiday season as an unforgettable gift.
This holiday add something new and exciting to your stocking stuffers that can be gifted to anyone in the family - Bitcoin gift cards and Ether gift cards. From your grandparents wanting to learn more about this new world of digital currencies to your high school family members saving up for college, cryptocurrency as a gift card is a memorable present that will set you apart.
At select CXI locations, you can purchase Bitcoin and Ether on a card quickly and easily with cash or a debit/credit card.
Digital assets have started to grow in popularity over the years as many companies are beginning to accept cryptocurrency as a form of payment. Here's a guide to help you decide how to gift cryptocurrency as a gift this year. Learn more by following our blog series on cryptocurrencies.
Why Buy Bitcoin and Ether Crypto as a Gift Card?
We've all been there. Scratching our heads, looking for the best gift, but struggling to find something unique.
The gift of a cryptocurrency card is unlike any other. The most distinctive difference from a traditional gift card is that the value may grow over time. Additionally, there are no gift card fees for inactivity. Your cryptocurrency card can be used at stores that accept the digital currency loaded onto the card, can be held short- or long-term for its value and exchanged back to US dollars via a crypto exchange, or you can add the crypto onto a digital wallet at any time.
Which Cryptocurrency Would Make the Best Gift?
The most established, accepted, and widely traded cryptocurrencies this year were Bitcoin and Ether. Bitcoin is considered by many to be the original digital currency. From the beginning of 2020 until November 24, 2021 (the date this article was written) Bitcoin has seen an increase in value of 674% vs the US dollar. While Ethereum is up in value more than 3,000% vs the US dollar during the same timeframe.
How do you Buy Bitcoin and Ether Cards as a Gift?
Cryptocurrencies are now much easier to buy, especially with the help of our tellers at CXI providing a convenient, concierge experience. You can easily walk into one of our select CXI branch locations, pay with cash or debit/credit card, and walk out with Bitcoin or Ether in less than 10 minutes with no technical knowledge or setup needed.
The Bitcoin or Ether is loaded onto a Cycle Card and you are ready to gift the card as the most talked about gift of the year!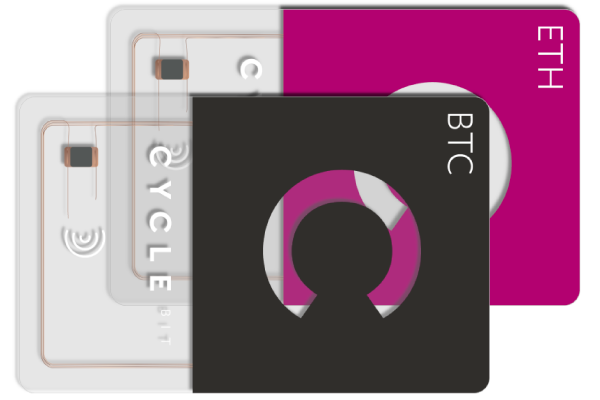 You can rest easy buying Bitcoin and Ether at CXI branch locations. CXI offers a secure, trusted way to get your digital currency. All you'll need to bring is a valid driver's license and a minimum of $50 to purchase the crypto.
Do you still have questions about buying cryptocurrency as a gift card? Call or visit a CXI location offering cryptocurrency services listed below.
About Currency Exchange International
Currency Exchange International, CXI, is the leading provider of comprehensive foreign exchange services, risk management solutions and integrated international payments processing technology in North America. CXI's relationship-driven approach ensures clients receive tailored solutions and world-class customer service. Through innovative and trusted FX software platforms, CXI delivers versatile foreign exchange services to our clients, so that they can efficiently manage and streamline their foreign currency and global payment needs. CXI is a trusted partner among financial institutions, corporations and retail markets around the world. To learn more, visit: www.ceifx.com