5 Reasons You Should Be Talking About Visiting Kyoto Japan
Jacquelyn
July 23rd, 2015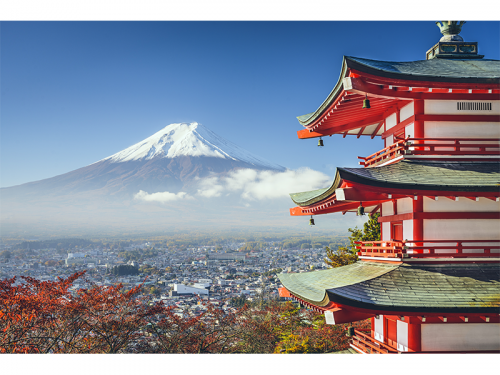 Ordering foreign currency is contactless with OnlineFX.
Did you know Kyoto also spells Tokyo? This probably explains why Kyoto was once the capital of Japan for more than one thousand years. Now it is known as the city of ten thousand colorful shrines with quiet temples and sublime gardens. Here are 5 reasons why Kyoto, Japan should be next on your bucket list.
1. Shrines and temples
There are literally thousands of Buddhist temples and Shinto shrines in Kyoto. It's great fun to take in the breathtaking scenery for each season and view the beautiful architectural structures. You can take a moment to learn the correct way to pray and also enjoy a casual trip to some of these wonderful places.
2. Museums
Art galleries, museums, and architectural masterpieces are just some of the unique sightseeing destinations in the culturally rich city of Kyoto.
3. Entertainment and tourist attractions
Traditional Theater such as performances of Maiko and Noh dramas which originated in Kyoto. You can also learn about Kabuki, a traditional Japanese stage drama, and Nihon Buyo, a traditional form of Japanese dance. Please enjoy the beauty of Japanese theater in elegant indoor facilities.
4. Food culture
Kyoto, as the capital of Japan for over 1200 years, was the kitchen of the Imperial Court. Top-ranking nobles inherited a multitude of refined cuisines, including specialties unique to Kyoto such as elegant "Kyo-kaiseki-ryori," vegetarian-friendly "Shojin-ryori", and "Obanzai" for everyday dining.
5. Events
Kyoto is full of cultural, artistic, and nature-related events throughout the year. Here are some fun upcoming events:
Kyo no Tanabata, August 1, 2015 – August 10, 2015

Gozan no Okuribi(Mountain Bon Fire), August 16, 2015

Kyoto International Manga Anime Fair, September 19 – 20, 2015

Kurama no Himatsuri (Fire Festival), October 22, 2015
Jidai-Matsuri Festival, October 22, 2015
Autumn Foliage, November 2015
Arashiyama

Hanatouro,

December 11, 2015 – December 20, 2015
To plan your next trip to Kyoto, Japan visit here.
About Currency Exchange International
Currency Exchange International (CXI) is a leading provider of foreign currency exchange services in North America for financial institutions, corporations and travelers. Products and services for international travelers include access to buy and sell more than 90 foreign currencies, multi-currency cash passport's, traveler's cheques and gold bullion coins and bars. For financial institutions and corporations, our services include the exchange of foreign currencies, international wire transfers, global EFT, the purchase and sale of foreign bank drafts, international traveler's cheques, and foreign cheque clearing through the use of CXI's innovative CEIFX web-based FX software www.ceifx.com