5 Best Places in Mexico City to Travel like A Local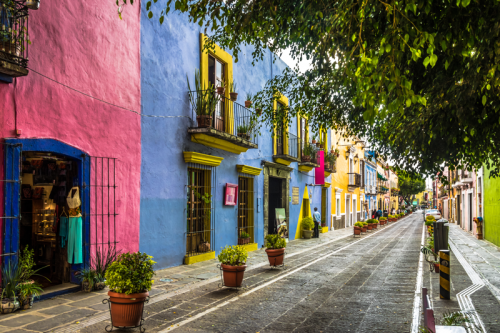 Ordering foreign currency online is easy with OnlineFX.
Traveling to a new place like Mexico is most likely on everyone's bucket list to visit at some point, but getting a chance to experience it like a local means you're ready to take your travel skills to the next level.
Recently Mexico City has been gaining momentum as one of the most popular travel destinations in North America, so we decided to feature a list with the best places to eat, drink, shop, stay and the currency you'll need to travel like a local Pro.
1. What's the best hotel in Mexico City?
Condesa DF: This lovely hotel was built in 1928 and has 26 rooms beautifully decorated with sophisticated style. It's located in the trendy condesa neighborhood, which is calm during the day but overflows with live energy at night.
2. What's the best restaurant in Mexico City?
Contramar: If you're looking for sensational seafood then this is the place to check out. Locals go here to see and be seen because this is the hottest place in town to eat with family and friends.
3. What's the best place to shop in Mexico City?
Carla Fernandez: Part of the charm when visiting a place like a local is finding a good place to shop. The ideal scenario is a hidden gem where you can get original and unique finds that you can't find anywhere else.
4. What's the best place to enjoy music in Mexico City?
San Luis Club: It's packed with tons of local music fans of all ages. On the weekends, this is the place to put on your best dancing shoes and dance the night away with classic salsa and merengue.
5. What's the best place to get ice cream in Mexico City?
Neveria Roxy: The lines at this old-fashioned ice cream parlor go around the block, which usually means it's worth the wait. Get ready to enjoy over 30 flavors to choose from with some options like Coco/Kahlua, Macadamia, Tutti Frutti and the list goes on.
What's the best currency to use in Mexico City?
Mexican pesos (MXN) and U.S. dollars are both used interchangeably in Mexico, but it's best to take pesos with you. If you're not into carrying cash then a Multi-Currency Cash Passport could be your best option.
Related blog posts:
About Currency Exchange International
Currency Exchange International (CXI) is a leading provider of foreign currency exchange services in North America for financial institutions, corporations and travelers. Products and services for international travelers include access to buy and sell more than 90 foreign currencies, multi-currency cash passport's, traveler's cheques and gold bullion coins and bars. For financial institutions and corporations, our services include the exchange of foreign currencies, international wire transfers, global EFT, the purchase and sale of foreign bank drafts, international traveler's cheques, and foreign cheque clearing through the use of CXI's innovative CEIFX web-based FX software www.ceifx.com