5 Currency Facts You Probably Didn't Know About the South African Rand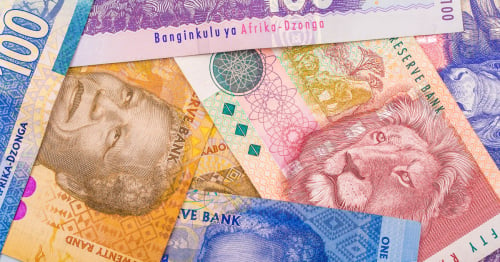 Ordering foreign currency online is easy with OnlineFX.
Maybe you've decided to take an excursion to the adventure capital of the world that is South Africa. Or maybe you've decided that Europe, Asia, and the Americas are too conventional, and South Africa calls to you as thoughts of camping under a picturesque, safari night sky and surfing in Cape Town make the country irresistible. Whichever draws you to South Africa, we have some helpful and fun facts about the country's currency listed below.
Born in 1961
Since 1961, the South African rand has reigned as the country's main currency. The rand came in to replace the pound Sterling as South Africa officially became a republic and left the Commonwealth of Nations, which is loosely governed by the British Empire.
Coins and Banknotes
When traveling around South Africa, it'll be important for you to know that the country has banknotes in six different denominations, consisting of the 10, 20, 50, 100, 200 and 1,000 ZAR.
The rand also has coins in 6 different denominations: 1, 2, 5, 10, 20 and 50 cents. Along with 1, 2, and 5-rand coins in circulation. However, we do not exchange these coins.
The new "ZAR"
The ISO code of the South African rand is the ZAR, which is an acronym for the Dutch words "Zuid-Afrikaanse rand". The ZA is a historical relic from Dutch and is only used when referring to the country's currency, since Saudi Arabia already called dibs on the "SAR" abbreviation roughly 30 years prior.
The Randela Effect
In 2012, the South African Reserve Bank created a series of banknotes embellished with Nelson Mandela's face to honour his role and dedication to creating peace throughout the country. These banknotes are referred to as "Randelas".
Exciting news from South Africa! New currency released today features Nelson Mandela on every note. pic.twitter.com/WBKgogL4

— These Numbers Have Faces (@TheseNumbers) November 6, 2012
South Africa's most Counterfeited
Finally, if you plan on utilizing the 200 rand, maybe consider using another denomination of this currency. The 200 rand notes just so happen to be the most counterfeited note in the country, so much so that some establishments won't accept them as payment.
About Currency Exchange International
Currency Exchange International, CXI, is the leading provider of comprehensive foreign exchange services, risk management solutions and integrated international payments processing technology in North America. CXI's relationship-driven approach ensures clients receive tailored solutions and world-class customer service. Through innovative and trusted FX software platforms, CXI delivers versatile foreign exchange services to our clients, so that they can efficiently manage and streamline their foreign currency and global payment needs. CXI is a trusted partner among financial institutions, corporations and retail markets around the world. To learn more, visit: www.ceifx.com