5 Facts You Probably Didn't Know About the Hungarian Forint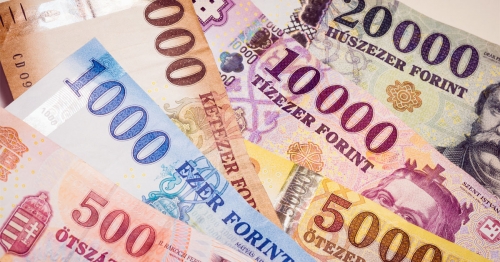 Ordering foreign currency online is easy with OnlineFX.
Back by Popular Demand
While Hungary is in the European Union, they do not use the Euro as currency. As the title of this article would suggest, Hungary's currency is the Forint, which was re-introduced in 1946 post WWII. Prior to this, the Forint was the country's currency between 1868 and 1892 (during the Austro-Hungarian Empire) before it was replaced by the pengő.
A Whole Lot of 0's
Today, the Forint has a total of six denominations: 500, 1000, 2000, 5000, 10,000, and
20,000
. 
If you're planning a trip to Hungary, be sure to count your zeros when you get change back from markets. You could end up with 1,000 forints instead of 10,000. Hungary also has coins in six denominations as well: 5, 10, 20, 50, 100 and 200 forints are in use.
Royal Figureheads
Three of the Hungarian banknotes have illustrations of some prominent figureheads in the country's history. These historic figures includine Kings Charles I, Matthias I, and Stephen I, all of whom had a monumental impact on Hungary and its people.
A Romantic History
The name "Forint" actually comes from the city of Florence, where gold coins minted in 1252 and beyond were called "fiorino d'oro". The Hungarians followed suit (in their own way) on the naming conventions of gold coins for the time; thus leading to their currency being named the Forint.
Joining the EU
Since Hungary joined the EU in April of 2003, there's been a lot of speculation on when they will switch their currency over to the Euro. Economists are arguing that the forint should disappear by 2020, "depending on the country's economic situation".
About Currency Exchange International
Currency Exchange International, CXI, is the leading provider of comprehensive foreign exchange services, risk management solutions and integrated international payments processing technology in North America. CXI's relationship-driven approach ensures clients receive tailored solutions and world-class customer service. Through innovative and trusted FX software platforms, CXI delivers versatile foreign exchange services to our clients, so that they can efficiently manage and streamline their foreign currency and global payment needs. CXI is a trusted partner among financial institutions, corporations and retail markets around the world. To learn more, visit: www.ceifx.com