5 Ways International Travelers Can Go Green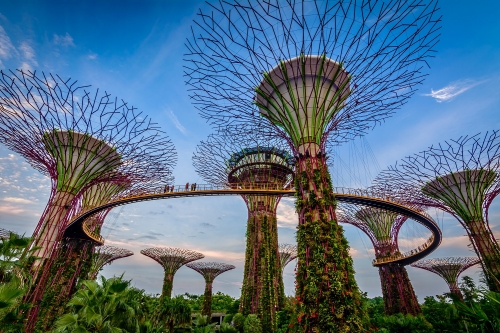 Ordering foreign currency online is easy with OnlineFX.
With all the popular trends today, going green is still in the top 5. When it comes to traveling there are a variety of ways to stay green.
From choosing your hotel to deciding where you eat, there are so many ways to keep the environment in mind while you travel. Planning a green trip doesn't always seem easy at first, but these tips will definitely help.
1. The Hotel
After you've picked your destination, the first step is deciding where to stay. There are a variety of hotel companies to choose from that implement green initiatives. To save water, many hotels will have an option to reuse your towels and others will even upgrade showers and toilets with new equipment designed to use less water. Motion sensors and the use of fluorescent bulbs also help these hotels use less energy throughout the day.
2. Transportation (get those steps in!)
Depending on where you are traveling to, walking or biking can not only be a greener (and cheaper) form of transportation but can allow you to see more and get exercise while you explore. Numerous cities such as Chicago, Minneapolis, and Orlando even have a program where you can rent a bike to take around the city.
3. Eat Local
Many cities and towns have restaurants with locally sourced food along with all the big chains. By eating a local spot, not only will you be immersing yourself into the culture of your destination but these restaurants grow their own food, eliminating imported foods.
4. Reuse, Reduce, Recycle
It's common to keep a water bottle and some snacks handy on your journey, especially if you're spending a lot of time outdoors. Bring a reusable water bottle with you! Not only does this benefit the environment, it will save you money by avoiding constantly purchasing disposable water bottles along your trip.
5. Go Digital
From plane tickets to navigation, there are many ways going digital can help you use less paper and stay organized! Airlines now give you the option to save your plane tickets on your phone, allowing you to keep your tickets in a safe place and reduce the amount of wasteful paper.
Also, using your smartphone as a GPS can help you navigate along your trip instead of accumulating a collection of paper maps as you go. As you can see, there are many ways to keep your travel plans green both while you plan and during the trip. Are there any travel tips we missed?
About Currency Exchange International
Currency Exchange International (CXI) is a leading provider of foreign currency exchange services in North America for financial institutions, corporations and travelers. Products and services for international travelers include access to buy and sell more than 90 foreign currencies, multi-currency cash passport's, traveler's cheques and gold bullion coins and bars. For financial institutions and corporations, our services include the exchange of foreign currencies, international wire transfers, global EFT, the purchase and sale of foreign bank drafts, international traveler's cheques, and foreign cheque clearing through the use of CXI's innovative CEIFX web-based FX software www.ceifx.com