6 Key Factors Behind the Fluctuation of Currency Exchange Rates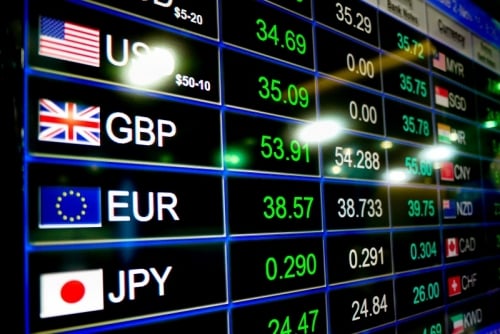 As we know, exchange rates fluctuate every day, even multiple times a day. It's important to understand that there are a variety of factors that affect the daily change in exchange rates.
It's also critical to understand that these rates play a vital role in a country's level of trade. Below are the core determinants of exchange rates.
1. Differentials in Inflation
Generally, a country that experiences lower inflation rates exhibits a rising currency value. This means they have an increase in purchasing power. "During the last half of the 20th century, the countries with low inflation included Japan, Germany and Switzerland, while the U.S. and Canada achieved low inflation only later," according to Investopedia.
2. Differentials in Interest Rates
As you can tell from above, inflation and exchange rates are highly correlated. We also see a strong correlation between these factors and interest rates.
When interest rates are higher, lenders in an economy receive higher return in comparison to other countries. This leads to higher exchange rates. If inflation is already high, a high interest rate won't have as strong of an impact as when inflation is low.
3. Current-Account Deficits
A countries current account is a record of its transactions with the rest of the world pertaining to trade in goods and services, cross-border investments, and transfer payments.
If this account is in a deficit (negative), then the country spends more on foreign trade than it brings in. This excess demand for foreign currency pushes the country's exchange rate down.
4. Public Debt
When a country has a large amount of public debt, foreign investors are less likely to do business with them. This, in turn, encourages inflation, which as we already learned means a reduction of the currency's value.
5. Terms of Trade
Terms of trade compares export prices to import prices within a country. This is one of the key indicators of a country's economic health.
If the price of a country's exports is rising by a greater rate than that of its imports, the terms of trade are in good shape. This means an increase in the country's currency value as demand for their currency has increased.
6. Political Stability and Economic Performance
Political turmoil also greatly affects the value of a country's currency. No one wants to rely on their capital being held in the currency of an unstable country. The same reasoning affects investors decisions that influence the economic performance of a country.
Hopefully this showed you that the fluctuation of exchange rates is a complicated measure of a countries economic health. However, there is a lot of information that can be indicated based on a country's exchange rates.
Exchange rates are actually among the most watched, analyzed and governmentally manipulated economic measures, according to Investopedia.
About Currency Exchange International
Currency Exchange International (CXI) is a leading provider of foreign currency exchange services in North America for financial institutions, corporations and travelers. Products and services for international travelers include access to buy and sell more than 90 foreign currencies, multi-currency cash passport's, traveler's cheques and gold bullion coins and bars. For financial institutions and corporations, our services include the exchange of foreign currencies, international wire transfers, global EFT, the purchase and sale of foreign bank drafts, international traveler's cheques, and foreign cheque clearing through the use of CXI's innovative CEIFX web-based FX software www.ceifx.com