6 Most Affordable Destinations You Must Visit in 2018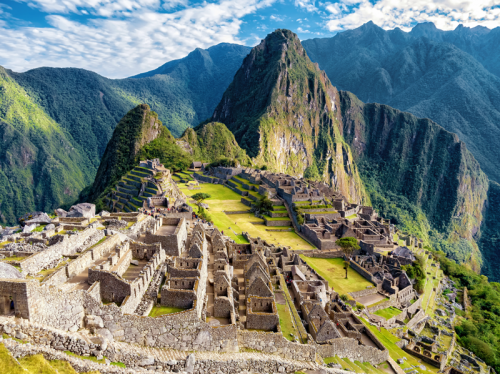 Ordering foreign currency online is easy with OnlineFX.
We know traveling on a budget isn't always easy! That's why we've put together a handful of great destinations that won't break the bank while you're there.
You won't believe all places you can explore while staying money conscious. Each of our costs below are based on an average sit-down meal and typical low-budget 3-star hotels or hostels.
1. Peru
Most well-known for its Incan citadel, Machu Picchu, located high in the Andes Mountains, Peru has proven to be a great option for travelers on a tight budget. However, the cost of tours can range slightly higher at around $65 USD. Just follow the locals to their favorite restaurants and you'll be surprised with how little you have to spend for great food.
Food: $10-13 USD or $3 if you grab a meal in the markets
Hotel: $15-20 USD per night
2. Estonia
Whether you're looking to tour museums, explore a castle, or want a taste of the unique cuisine, Estonia has so much to explore! The Kadriorg Palace, located in Tallinn, is home to an art museum featuring the largest collection of Western European and Russian art of the elderly.
Food: $18 USD for a whole day
Hotel: $40 USD per night
3. Slovenia
One of the most affordable destinations in Eastern Europe, Slovenia, has a smaller influx of tourists but still offers you unforgettable sites and food. Mountain adventures, top of the notch cuisine and don't forget to visit Ljubljana, Slovenia's capital and largest city. Visit in summer to enjoy terrace seating at cafes along the river.
Food: $10-20 USD
Hotel: $60-130 USD
4. Malaysia
While many people travel to nearby to Thailand, Malaysia has a lot to offer especially for those on a low budget. Beautiful beaches and rainforests always make for a great getaway. Throughout the year, many art festivals are held throughout Malaysia, such as the Sabah Women Art Exhibition from July to October.
Currency: Malaysia ringgit (MYR)
Food: $10 USD can cover 3 meals in one day
Hotel: $15 USD per night
5. Guatemala
If you enjoy backpacking, Guatemala should be on your travel list. A variety of hikes will help you explore the culture and natural beauty of Guatemala. Whether you're looking to explore volcanoes or walk through Mayan ruins, Guatemala is full of outdoor adventure.
Currency: Guatemala quetzal (GTQ)
Food: $5-15 USD
Hotel: $20-50 USD
6. Chile
While getting to Chile might not be the cheapest, exploring the country is very budget friendly. Visit the popular Andes Mountains or hike the Chilean Incan Trail and enjoy meals ranging around $10 a day. Many of the local markets have great food, but also the best prices!
Food: $8-10 USD
Hotel: $15-45 USD
It won't take you long to start saving up for one of these amazing trips! With low budget hotels and amazing food at great prices, you'll feel like you're in paradise for half the price.
About Currency Exchange International
Currency Exchange International (CXI) is a leading provider of foreign currency exchange services in North America for financial institutions, corporations and travelers. Products and services for international travelers include access to buy and sell more than 90 foreign currencies, multi-currency cash passport's, traveler's cheques and gold bullion coins and bars. For financial institutions and corporations, our services include the exchange of foreign currencies, international wire transfers, global EFT, the purchase and sale of foreign bank drafts, international traveler's cheques, and foreign cheque clearing through the use of CXI's innovative CEIFX web-based FX software www.ceifx.com