6 Most Inspiring Instagram Worthy Travel Destinations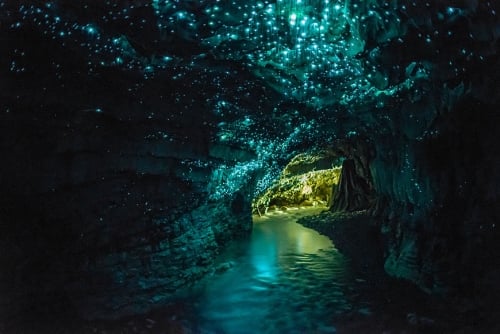 Photo: Waitomo Glowworm Caves in New Zealand
Ordering foreign currency online is easy with OnlineFX.
When it comes to traveling, everyone wants to capture those incredible sights they stumble across to look back on later. Where should you go to find these fantastic sights, you ask? We've compiled a list of a few destinations around the world that you won't want to miss out on.
1. Salar de Uyuni, Bolivia
Ever wanted to walk on clouds? When small amounts of water flood the plain, these salt flats naturally become a huge mirror making for some very fun pictures. It's clear reflection really makes it look like you're floating on clouds.
2. Waitomo Caves, New Zealand
Within these caves, glowworms radiate luminescent light, making these caves a perfect photo opportunity. You can walk through these caves or even go on a boat ride that takes you right under the glowworms.
3. Breiðamerkurjökull Ice Cave, Iceland
These ice caves can only be visited in the winter time between November and March. However, what makes these caves so neat is their natural luminous blue color. This is a result of this pressurized ice not receiving direct sunlight.
4. Chefchaouen, Morocco
If you're really love blue, another great view is in the town of Chefchaouen. Known for its blue hue, this city's buildings everywhere have a gorgeous blue covering them.
5. Cappadocia, Turkey
Everyday at sunrise in Cappadocia, hundreds of hot air balloons drift into the sky. If you don't like heights, don't worry! This is not only a perfect photo opportunity if you're in the balloon, but it's also an immaculate sight from land.
6. The Laneways of Melbourne, Victoria, Australia
If you love art, the Laneways in Melbourne will leave you amazed. Lined with street art, you are bound to get tons of great pictures here!
From caves to blue towns, there are so many unique sights to see all over the world. Each of these destinations will have you reaching for your camera so you can cherish these moments forever.
About Currency Exchange International
Currency Exchange International (CXI) is a leading provider of foreign currency exchange services in North America for financial institutions, corporations and travelers. Products and services for international travelers include access to buy and sell more than 90 foreign currencies, multi-currency cash passport's, traveler's cheques and gold bullion coins and bars. For financial institutions and corporations, our services include the exchange of foreign currencies, international wire transfers, global EFT, the purchase and sale of foreign bank drafts, international traveler's cheques, and foreign cheque clearing through the use of CXI's innovative CEIFX web-based FX software www.ceifx.com