6 Ways to Pass the Time in an Airport Without Spending a Single Dollar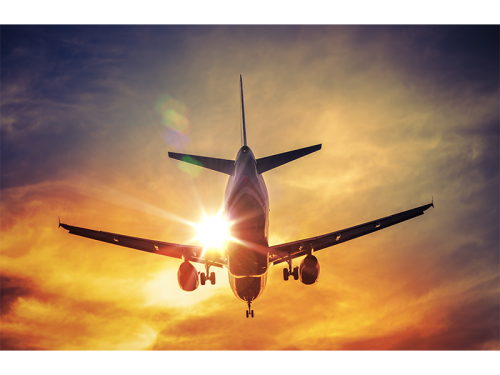 Ordering foreign currency online is easy with OnlineFX.
Waiting around an airport during that 4-hour layover can be rather boring. In order to pass the time, many airports now offer free services such as yoga or museums. Find out what you can take advantage of the next time you have some downtime in between flights!
1. Take a Tour
Want to learn about a new city while you wait for your next flight? The San Diego International Airport offers a free two hour behind the scenes tour of the airport and airfield. It also includes an up-close look at the runway, endangered species areas and public art.
Salt Lake City International Airport has a courtesy van that takes you on tours of the heart of Salt Lake City in Temple Square. Also, Turkish Airlines offers free Istanbul tours, exclusive to their airline, for flyers stopping in Istanbul Ataturk Airport.
2. Head to the Theater
If your layover is long enough, you can enjoy a movie while you wait. The Changi Airport in Singapore has a movie theater open 24/7 that plays movies ranging over a wide variety of genres. However, the first airport in the U.S. to include a full movie theater was the Minneapolis-Saint Paul International Airport.
Then, Portland International Airport in Oregon stepped it up with a vintage-style cinema showcasing locally produced art house films. To top that, Delhi's Indira Gandhi International has a 6D film experience complete with special effects like moving seats and snow.
3. Relax with Yoga
San Francisco International Airport, Chicago's O'Hare and Midway Airports, Miami International Airport, and Dallas-Fort Worth International Airport help you relax with dedicated yoga rooms.
You don't even have to bring your own mat! All of these locations have mats available for anyone to use. The Chicago airports even have videos playing that offer yoga instruction tips.
4. Explore a Museum
A variety of airports have museums you can visit to pass the time. The San Francisco International Airport has a variety of exhibitions located throughout the airport you can visit.
5. Make a Phone Call
We know the airport is where you take the time to charge your phone back up, so there are alternatives to keep in touch while you let your device charge. The first Skype video booth was installed in Tallinn Airport just a few short years ago.
In this booth travelers can make free Skype-to-Skype calls. They even provide you with a headset. In addition, Denver International Airport, Washington Dulles International Airport and Ronal Reagan Washington National Airport have courtesy phones that allow you to make free calls within the U.S. as long as they are shorter than five minutes.
6. Accommodations for Your Pets
Some airports, such as Miami International Airport, Detroit Metro Airport and JFK's Terminal Four, have created little dog parks so you don't have to keep your dog penned up in a carrier for hours. Not only do these give your pets a chance to relieve themselves, but it'll help keep them from becoming restless on your flight.
Whether you're looking for a behind-the-scenes tour, or you just want to stretch out in the yoga room before a long plane ride, airports are increasingly including a variety of free amenities.
So, next time you travel, instead of spending your whole time playing on those iPads by the bar, explore the immense amount of free entertainment airports can offer.
About Currency Exchange International
Currency Exchange International (CXI) is a leading provider of foreign currency exchange services in North America for financial institutions, corporations and travelers. Products and services for international travelers include access to buy and sell more than 90 foreign currencies, multi-currency cash passport's, traveler's cheques and gold bullion coins and bars. For financial institutions and corporations, our services include the exchange of foreign currencies, international wire transfers, global EFT, the purchase and sale of foreign bank drafts, international traveler's cheques, and foreign cheque clearing through the use of CXI's innovative CEIFX web-based FX software www.ceifx.com