6 of Europe's Most Enchanted Castles You Must Visit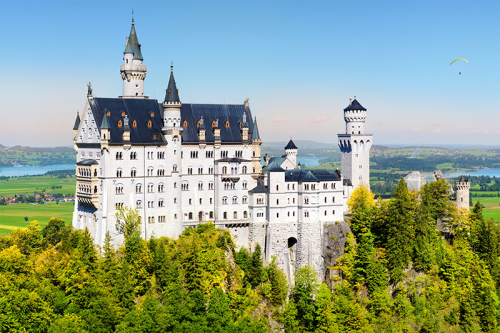 Ordering foreign currency online is easy with OnlineFX.
If you're looking for a reason to book that Europe trip soon, you've come to the right place! These sights will make you think back to your favorite fairy tales. Here is just a glimpse of some of the extraordinary castles located throughout Europe.
1. Neuschwanstein Castle, Germany
One of the most popular castles in Europe, Neuschwanstein was home to King Ludwig II until 1886 when this extravagant castle opened to the public. This castle was built by Ludwig II as a place of retreat and privacy.
Outside of the castle there are beautiful sites to see, including views from the Marienbrücke bridge. However, be careful going in the winter months because this bridge may be closed in bad weather.
2. Bran Castle, Romania
Commonly known as Dracula's castle, Bran Castle sits among the peaks of the Bucegi and the Piatra Craiului Mountains. To keep connected to its famous Dracula references, Bran Castle even an annual Halloween party with special tours and festivities.
A more recent addition to the Bran Castle comes from the restoration of the Queen's Tea House. It now invites guests to enjoy food and drinks while lounging on antique furniture and taking in the vintage photos of the royal family.
3. Leeds Castle, United Kingdom
Leeds Castle has become one of the most visited historic buildings in Britain. Whether you're looking to walk among vast gardens, spend the night in a castle, or even try your luck at a yew tree maze, Leeds Castle is sure to impress.
Plus, your admission ticket offers you access all year long to take in all that Leeds Castle has to offer as well as attend their special events held throughout the year.
4. Bojnice Castle, Slovakia
Standing on a hill over the town, Bojnice was originally a wooden castle that was gradually built up from stone in the 13th century.
Not only does Bojnice Castle provide daily tours, they also have a night ghost tour by candlelight. The Castle also holds many events around major holidays, so make sure to see what special events are being held when you plan to go!
5. Prague Castle, Czech Republic
"According to the Guinness Book of World Records, Prague Castle is the largest castle complex in the world." It has an area of almost 70,000 square meters, that's 753,473 square feet!
You could spend a whole day exploring the mix of cathedrals and gardens that make up this complex. There's also a variety of exhibitions, with some permanent and others only for a limited time.
6. Pena Palace, Portugal
This palace stands out from the rest with its vibrant red and yellow colors. The palace was built to be visible from any point in the park that surrounds it. There are a variety of ways you can explore the castle and luxuriant gardens from horse rides, to carriage rides, to organized hikes.
Are you ready to see what a life of enchantment looks like? Plan a visit to any of these castles and you're sure to be amazed!
About Currency Exchange International
Currency Exchange International (CXI) is a leading provider of foreign currency exchange services in North America for financial institutions, corporations and travelers. Products and services for international travelers include access to buy and sell more than 90 foreign currencies, multi-currency cash passport's, traveler's cheques and gold bullion coins and bars. For financial institutions and corporations, our services include the exchange of foreign currencies, international wire transfers, global EFT, the purchase and sale of foreign bank drafts, international traveler's cheques, and foreign cheque clearing through the use of CXI's innovative CEIFX web-based FX software www.ceifx.com