7 Incredible Houses to Rent in Greece for Cheap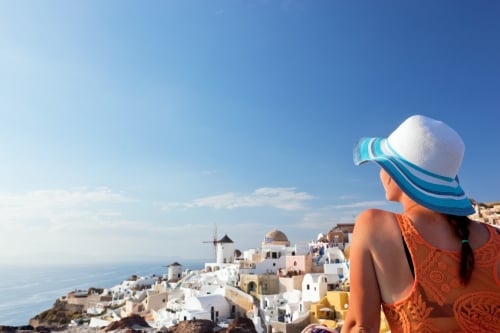 Ordering foreign currency online is easy with OnlineFX.
Sometimes planning a vacation can become difficult when you see all the expenses add up. Between transportation, hotels, food, and entertainment, it can be hard to plan an economical trip when traveling internationally.
However, you may want to start looking at taking a trip to Greece this year. Below are some beautiful houses that beat staying at a hotel (and are cheaper too!)
1. Chanian Mountain Home
Starting at only $114 (approximately 90 euros) a night, this estate containing 7 bedrooms holds 14 guests! That means if you can find 13 other friends, you're only paying a little over $8 a night for your own private house.
Located in the center of Crete, this estate is perfect for visiting in the summer months. With their stone-built barbecue right next to the pool, you can enjoy the beautiful summer weather.
2. Saronic Gulf Villa
Just an hour and a half outside Athens, you can be staying at this villa for just $188 (approximately 145 euros) a night!
If you're into a room with a view, this villa is perfect for you as this house is filled with windows that look out onto the water. Plus, this villa sleeps 6 guests and has its own private pool with a breathtaking view.
3. Aegean Island Villa
If you are able to get a lot of friends together, this villa or "private village" is on a secluded corner of the Aegean. Made up of 6 buildings, this villa sleeps 16 and has an array of amenities for $631 (approximately 475 euros) a night.
Daily cooking, cleaning, and chauffeur services are included in the rental price of the villa. Prepare to be pampered staying at this gorgeous space.
4. La Belle Helene
For a low price of $353 (approximately 265 euros) for up to 12 guests, this house is close to the beach! What makes this house unique is their beautiful rose garden. For a little extra, you can enjoy Greek cuisine prepared for you by their professional chef.
5. Villa Karystos
If you want something more modern, check out Villa Karystos. This villa was recently built in 2011 and is vary spacious with 7 bedrooms, sleeping up to 14 guests.
You can lounge by the pool overlooking the Agean Sea for just $631 (approximately 475 euros) a night. You are also very close to 2 beaches in Karystos, Kavos and Bouros.
6. Hector Cave House
Now this house is extra special because of its rich history. Over 250 years ago it used to be a wine cellar when it was first carved into the Caldera cliff.
Starting at $379 (approximately 285 euros) a night for up to 5 guests, this home offers beautiful views of Santorini. This includes views of a Volcano, the Caldera cliff, and Thirassia Island. If you want to enjoy the amenities of the pool make sure to visit between April and November!
7. Karystos Villa With a View
Located right in Central Greece, this spacious villa offers wonderful sea views at $280 (approximately 210 euros) a night. Full of balconies and a terrace, you will find the perfect spot to enjoy the gorgeous views from this villa. There are a variety of activities local to the area including cycling, fishing, and water sports.
There is no need to book an expensive hotel with all these great options of 5-star homes to stay in. Not only are these large houses budget friendly, you can find yourself enjoying the seclusive nature of these homes. With vast amenities and lots of space, this is a great way to plan a big family vacation or get your closest friends together.
About Currency Exchange International
Currency Exchange International (CXI) is a leading provider of foreign currency exchange services in North America for financial institutions, corporations and travelers. Products and services for international travelers include access to buy and sell more than 90 foreign currencies, multi-currency cash passport's, traveler's cheques and gold bullion coins and bars. For financial institutions and corporations, our services include the exchange of foreign currencies, international wire transfers, global EFT, the purchase and sale of foreign bank drafts, international traveler's cheques, and foreign cheque clearing through the use of CXI's innovative CEIFX web-based FX software www.ceifx.com