7 Secrets to Saving Money While Traveling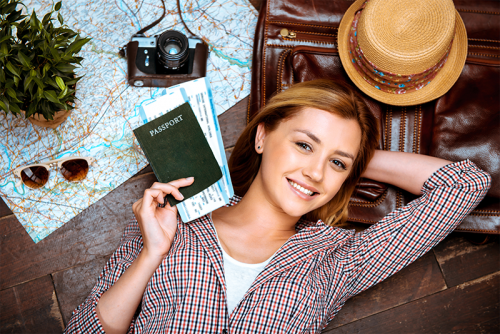 Ordering foreign currency online is easy with OnlineFX.
When planning a trip, it can be difficult to keep the cost low. Between transportation, food, and activities to enjoy along the way, the expenses can really add up. That's why we've put together some of the best tip and tricks to help you save money on your next trip!
Accommodations
One way to keep the price of your accommodations low is to book a Top Secret Hotel. Doing this can help you spend up to 40% less on hotels. You just book the hotel through lastminute.com and you will know everything about the hotel except the name, until you book it.
Also, many hotels charge additional fees for amenities you may not even care to use. Make sure to ask before making your reservation, as sometimes they can remove these additional fees.
Getting to Your Destination
While trains can take a little more time, it can be a great way to save money on traveling between cities! Plus, if you plan an overnight train ride, you can save money on hotel accommodations. Don't forget the perk of all the scenery you can view from a train.
Using Rome2Rio can help you see all of the available transportation options between destinations, helping you find the cheapest one! We searched what the best way to travel within Italy would be. We found the cheapest way to get from Naples to Florence is by bus, starting at $17. The website also showed that even taking a train would be cheaper than driving between these two cities!
If you're choosing to fly, look into free stopover programs. Not only does these prevent you from having to wait around an airport during a layover, but it allows you to take advantage of visiting an additional city! A few airlines that currently provide this are Hawaiian Airlines, Air Canada, WOW air, and Turkish Airlines.
Dining
Familiarize yourself with the tipping rituals in the country you are traveling to. Some countries already include the tip in your bill, while in others it may not be customary to tip at all.
If there is an expensive restaurant you are really wanting to try, we recommend seeing if they have a lunch menu. Many restaurants offer more affordable prices during lunch and even offer items that aren't available at dinner time.
Attractions
When it comes to finding cheap activities, many cities have a variety of cultural museums that can be cheap or even free. Also, some cities offer a pass that bundles major tourist attractions. This usually has a high discount if you purchase the bundle.
As you can see, there are many ways to save money in all aspects of your trip. From finding hotel deals, to saving money on transportation, you can still plan a big trip without breaking the bank.
About Currency Exchange International
Currency Exchange International (CXI) is a leading provider of foreign currency exchange services in North America for financial institutions, corporations and travelers. Products and services for international travelers include access to buy and sell more than 90 foreign currencies, multi-currency cash passport's, traveler's cheques and gold bullion coins and bars. For financial institutions and corporations, our services include the exchange of foreign currencies, international wire transfers, global EFT, the purchase and sale of foreign bank drafts, international traveler's cheques, and foreign cheque clearing through the use of CXI's innovative CEIFX web-based FX software www.ceifx.com