7 Stunning Islands to Visit in Europe this Summer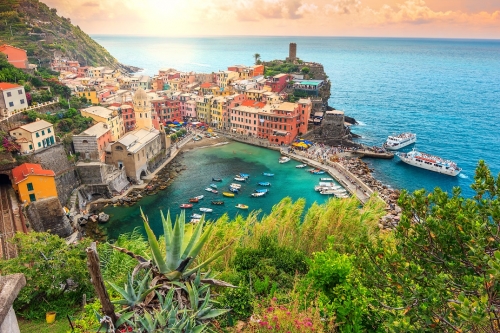 Ordering foreign currency online is easy with OnlineFX.
Still trying to figure out where to travel to this summer? Travel and leisure just came out with their 2017 World's Best Awards and these islands in Europe have proven to stand out among the rest. From Santorini to Sicily, all these islands offer breathtaking views with an abundance of amenities.
1. Santorini, Greece
This group of islands are the result of intensive volcanic activity thousands of years ago. Most commonly known as a popular destination for weddings, Santorini can be the perfect romantic getaway. Famous for its beautiful sunset, this island offers irresistible sights.
2. Ischia, Italy
Ischia not only has beautiful beaches to explore, but many attractions to see. From colorful gardens to picturesque churches to historical sites such as Castello Aragonese and Chiesa del Soccorso, there's something for everyone in Ischia. Don't forget to visit the natural hot springs at Sorgeto to bathe in a variety of pools, all varying in temperature.
3. Hvar and the Dalmation Islands, Croatia
With warm winters and pleasant summers, Hvar attracts travelers all year round. "Their reputation as Croatia's premier party town is well deserved," says Lonely Planet. If you are interested in a lively destination, Hvar is where you need to be.
4. Crete, Greece
Representing the largest island in Greece, Crete provides access to many beaches as well as extraordinary mountainscapes. Chania, resting on the western side of the island is an excellent place for food and wine lovers to venture to. However, if you're looking to take in the elaborate scenery of this island, Rethymno is the place for you with legendary caves and traditional mountain villages.
5. Paros, Greece
With 38 beaches, Paros is a top choice for beach lovers. "These beaches are famous for exotic water and the golden sand." Golden Beach is one of the most popular beaches on the island and its windy conditions provide the perfect opportunity for windsurfing. Annually they hold an international windsurfing competition at this beach.
6. Rhodes and the Dodecanese, Greece
The Dodecanese are the southernmost group of Greek islands. These islands offer not only beautiful sandy beaches but many archaeological sites and ruins to explore that date from the 4th century BC.
7. Azores, Portugal
Azores is made up of nine islands that are great for canoeing, hiking, scuba diving and more! If you're interested in learning more about the culture and history of these islands there are a variety of museums and monuments to see such as the Military Museum of the Azores and Gruta do Carvão, a 1,912-meter-long lava tunnel.
Still not sure where you want to plan your next adventure? You can check out Wander to find the perfect destination within your budget. Wander uses your location, trip budget, and travel dates to help create the perfect travel plan for you.
About Currency Exchange International
Currency Exchange International (CXI) is a leading provider of foreign currency exchange services in North America for financial institutions, corporations and travelers. Products and services for international travelers include access to buy and sell more than 90 foreign currencies, multi-currency cash passport's, traveler's cheques and gold bullion coins and bars. For financial institutions and corporations, our services include the exchange of foreign currencies, international wire transfers, global EFT, the purchase and sale of foreign bank drafts, international traveler's cheques, and foreign cheque clearing through the use of CXI's innovative CEIFX web-based FX software www.ceifx.com