Bank of England: The British £10 Banknote is Being Withdrawn from Circulation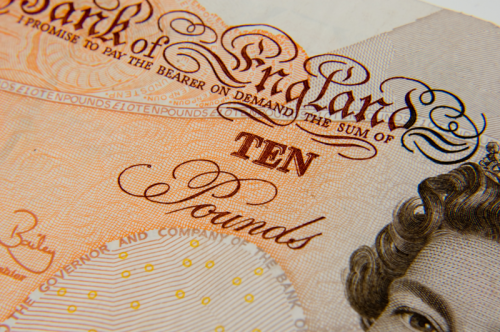 Ordering foreign currency online is easy with OnlineFX.
After the release of the new £10 note featuring Jane Austen in September, the time is coming soon to retire the old £10 notes. Bank of England has recently announced the last day to use your old £10 banknotes is March 1, 2018.
Paper £10 notes are being withdrawn. The last day to use them is 1 March 2018. https://t.co/l4iCy0oRAf pic.twitter.com/miaXDtVjhm

— Bank of England (@bankofengland) December 13, 2017
Why The New

10 British Pound Currency
The £10 is the second bill, following the £5 note, the Bank of England has introduced in its new collection of polymer banknotes.
The conversion from paper to polymer is being implemented as polymer notes are cleaner, safer, and more durable than their paper counterparts.
While these bills have been in circulation since September, the old £10 have still been legal tender, until now.
How and Where to Exchange The 10 British Pound
You can exchange your old banknotes either in person or by post. If you would like to exchange the currency in person, you can go to any:
Local bank

Building society or

Post office
With methods 2 - 4 you can either choose to be given new banknotes, or have the money deposited into your bank account.
If you choose to send the banknotes by mail, you have the option to be paid directly into your bank account, by check, or, if you live in the UK and your exchange is worth less than £50, in new banknotes.
Important 10 British Pound Currency Exchange Tips
CXI Locations:

If you are exchanging over $750 USD worth of British pounds with CXI, please be sure to bring a valid US driver's license or passport with you for this exchange

Bank of England:

If you are exchanging banknotes worth £999 or less and the money belongs to you, you may not need to bring any form of identification

If you are exchanging banknotes worth £999 or less but the money belongs to someone else, you need to provide an original signed letter of authority from the owner

If you are exchanging banknotes worth more than £1000 or more, you need to bring original photo ID and proof of address

Will need for you to provide them with a BIC/SWIFT Code and IBAN number to make a transfer to an overseas account.
If you wish to exchange your £10 British pounds in person at Bank of England in London, or by post, here's the full list of options and requirements you will need to have ready.
What About Your 20 British Pounds
The £20 is the next banknote to be updated to polymer. According to the Bank of England, the new £20 note will be issued in 2020. This banknote will feature JMW Turner. Get ready for the complete switch from paper to poymer.
About Currency Exchange International
Currency Exchange International (CXI) is a leading provider of foreign currency exchange services in North America for financial institutions, corporations and travelers. Products and services for international travelers include access to buy and sell more than 90 foreign currencies, multi-currency cash passport's, traveler's cheques and gold bullion coins and bars. For financial institutions and corporations, our services include the exchange of foreign currencies, international wire transfers, global EFT, the purchase and sale of foreign bank drafts, international traveler's cheques, and foreign cheque clearing through the use of CXI's innovative CEIFX web-based FX software www.ceifx.com