11 Fabulous Foods You Must Try On Your Trip To Turkey
Ryan
September 24th, 2015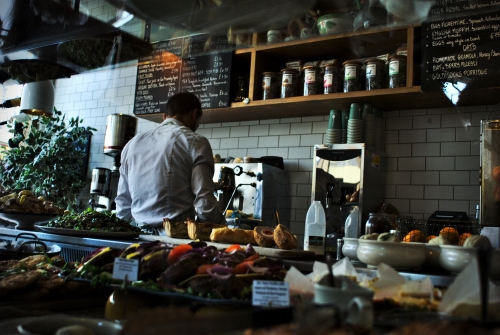 Ordering foreign currency online is easy with OnlineFX.
1. Kebap
Kebap, the cornerstone of modern Turkish cuisine, simply means "charcoal-grilled" and includes dishes as disparate as kestane kebap roasted chestnuts sold in paper bags by street vendors on winter days.
2. Simit
This humble snack traces its roots to the 16th century. Today the sesame encrusted simit is both a breakfast staple and a popular street food.
3. Kahvalti
The Turkish breakfast will make even the committed night owl a morning person. Oven fresh bread accompanied by honey and Turkish clotted cream (or kaymak).
4. Turkish Delights
Turks call these delicate cubes of jelly lokum, which derives from the Arabic word for "morsels." The confection comes in a dazzling variety of flavors, shapes, and colors and is dusted with icing sugar or coconut and sold by the handful in picturesque boxes.
5. Baklava
This dessert actually hails from Central Asia and spread from there throughout the Ottoman world.
6. Fruits and Nuts
That tub of Nutella on your breakfast table probably started life in an orchard in the Black Sea provinces of Giresun or Ordu, Turkey accounts for 75% of the global hazelnut crop.
7. Pide
Also known as "Turkish pizza," pide is flatbread baked in a wood-fired oven. It comes with a variety of meaty toppings: sucuk (Turkish sausage), pastrami, and minced (kıyma) or chopped (kuşbaşı) lamb meat are popular offerings.
8. Manti
This version of dumplings is served with dollops of fresh, tart yogurt, doused with melted butter, and sprinkled with chopped herbs and chili flakes. It's as tasty as it sounds.
9. Dolma and Sarma
Turkish dolma is a dish where rice and meat gets stuffed into hollowed out peppers, tomatoes, zucchini, or dried eggplants, then slowly braised. Sarma sees the same ingredients rolled in vine or cabbage leaves.
10. Kurufasulye
This modest dish of creamy blond beans stewed in tomato gravy has adherents whose sensitive palates can distinguish which usta (master) cooked the dish from among thousands of beaneries dotting the country.
11. Tavuk Gögsü
This strange looking blend of boiled chicken, milk, and sugar that's been dusted with cinnamon is perhaps surprisingly delicious.
Over to you
What are some of the best Turkish dishes you've ever had? Where are some of the best Turkish restaurants? What other international foods would you recommed everyone should try? Are we missing any on this list? Share your thoughts and travel tips to help other world travelers.
About Currency Exchange International
Currency Exchange International (CXI) is a leading provider of foreign currency exchange services in North America for financial institutions, corporations and travelers. Products and services for international travelers include access to buy and sell more than 80 foreign currencies, multi-currency cash passport's and traveler's cheques. For financial institutions, our services include the exchange of foreign currencies, international wire transfers, purchase and sale of foreign bank drafts, international traveler's cheques, and foreign cheque clearing through the use of CXI's innovative CEIFX web-based FX software https://www.ceifx.com.