Foreign Exchange: Qatari Riyal Currency in Crisis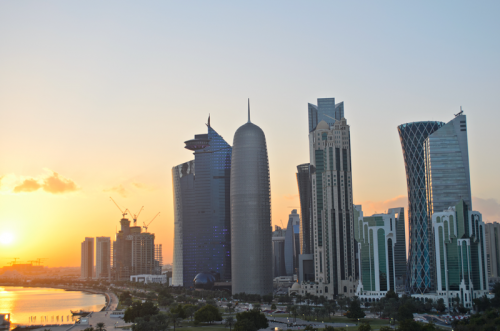 Update June 7, 2017: Qatar Riyals (QAR) Trading Suspended. Due to a deterioration of relations between Qatar and neighboring countries the border has been closed. CXI will be unable to purchase any QAR from clients until further notice. We will monitor the situation closely and advise if there are any changes.
A recent diplomatic turmoil in the Middle East has prompted Bahrain, Egypt, Saudi Arabia, United Arab Emirates, Mauritius, Mauritania, the Maldives, Libya and Yemen to sever or suspend ties with Qatar, accusing Qatar of supporting terrorism and destabilizing the region.
As of Tuesday, June 6 the Qatar riyal currency has been under massive amounts of pressure, with many central banks in the region pulling away from any financial ties to Qatar. All of these speculations have caused the riyal to fall to its lowest point since June 2016.
"We will not take action without central bank guidance, but it is wise to evaluate what you give to Qatari clients and hold off until there is further clarity," said a UAE banker, adding that trade finance had stalled for the time being, according to Reuters.
Due to the circumstances of this developing situation, Currency Exchange International is unable to buy or sell Qatari riyal (QAR) currency until there's more clarity on the issue. We will continue to monitor the Qatar currency market and will provide updates as new information becomes available.
About Currency Exchange International
Currency Exchange International (CXI) is a leading provider of foreign currency exchange services in North America for financial institutions, corporations and travelers. Products and services for international travelers include access to buy and sell more than 90 foreign currencies, multi-currency cash passport's, traveler's cheques and gold bullion coins and bars. For financial institutions and corporations, our services include the exchange of foreign currencies, international wire transfers, global EFT, the purchase and sale of foreign bank drafts, international traveler's cheques, and foreign cheque clearing through the use of CXI's innovative CEIFX web-based FX software www.ceifx.com