How Today's Currency Symbols Originated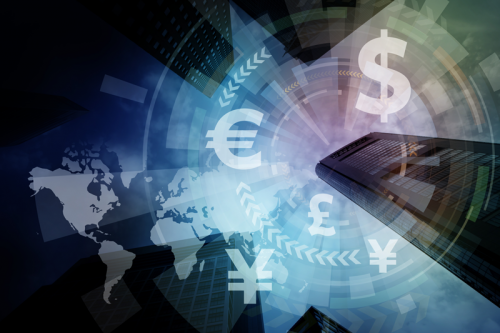 Ordering foreign currency is easy with OnlineFX.
From dollars to euros to pounds, every currency we use has a symbol unique to it. Ever wonder how these symbols came to be? We've got a few stories that explain the origins of these common symbols.
The U.S. Dollar
We can trace the dollar back to Spain, who the United States modeled their currency after in 1785. The dollar symbol comes from a handwritten ps, an abbreviation for peso used at the time. This transformed into an uppercase "S" with a line through it as a short version of the "p."
The Euro
In order to establish the symbol for European currency, a contest was held for designers to submit their ideas, and the European Commission ultimately decided. When the symbol was chosen, it was announced that the sign for the euro was inspired by the Greek symbol epsilon as "E," the first letter of the word "Europe." The parallel lines were included to signify the stability of the euro.
The British Pound
The pound symbol put simply is an old-fashioned style capital "L" with a line through it to make it stand out as a symbol. The reason the letter "L" was chosen was to stand for the Latin word libra, the name of a Roman unit of weight. This is what brought on the abbreviation "lb" for a pound as a measure of weight.
Source: www.lexico.com
The Japanese Yen
In Japanese, the word "yen" is pronounced as "en." The "Y" used as the basis for the symbol is possibly due to this foreign pronunciation, "yen". The word yen actually translates to "round object," such as the shape of coins used by other countries.
The Australian Dollar
The Australian dollar was actually introduced in 1966 after previously using pounds. There were a variety of names proposed for the new currency such as the "kanga" and the "roo." However, the dollar is what stuck.
The Canadian Dollar
Similar to the Australian dollar, the Canadian dollar switched from pounds to dollars. The Canadian dollar is often presented as C$ to distinguish it from other dollar denominations. In 1841, one Canadian pound was equal to four U.S. dollars. However, now the Canadian dollar and U.S. dollar are much closer to each other.
The Indian Rupee
One of the oldest currencies in the world, the Indian rupee actually didn't have a symbol until 2010. It was previously common to use Rs or Re when referring to rupees, but now the symbol consists of two parallel lines above two diagonal lines. The parallel lines at the top represent the tricolor Indian flag.
So, whether the currency is one of the oldest or was adopted within the last century, they all have a rather deep meaning behind their symbols. From the addition of lines to a specific choice of letters, every symbol stands to represent its country and unique currency.
About Currency Exchange International
Currency Exchange International (CXI) is a leading provider of foreign currency exchange services in North America for financial institutions, corporations and travelers. Products and services for international travelers include access to buy and sell more than 90 foreign currencies, multi-currency cash passport's, traveler's cheques and gold bullion coins and bars. For financial institutions and corporations, our services include the exchange of foreign currencies, international wire transfers, global EFT, the purchase and sale of foreign bank drafts, international traveler's cheques, and foreign cheque clearing through the use of CXI's innovative CEIFX web-based FX software www.ceifx.com