How to Vacation for (Nearly) Free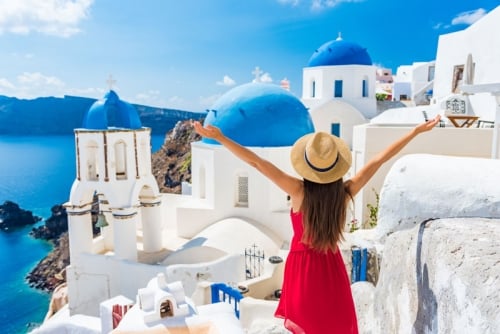 Ordering foreign currency online is easy with OnlineFX.
Did you know that there are ways to have your dream vacation for free (or pretty close to it)? If costs are what's holding you back from having the trip of a lifetime, you need to try these tricks.
Who knows, you might find yourself traveling around the world for free! Everything from reward programs to social media, there are tons of ways to get those hefty travel expenses covered.
Frequent Flyer Miles
Sometimes the most expensive part of a trip can be getting to your destination. Especially in peak seasons, airline prices can be outrageous.
Make sure to check on your frequent flyer miles you've accumulated. It's important to note that these lose value over time and even expire eventually, so using your frequent flyer miles will not only save you money but give you a great excuse to start planning that trip as soon as possible!
Credit Card Rewards
If you haven't flown very much for frequent flyer miles to help you out, look into credit cards that offer travel rewards. This can help start saving towards that exciting trip while simply using the card for your everyday spending.
Even look into the rewards programs your current credit cards offer. These can not only help with flight fare, but even cover hotels as well. You may be surprised by the travel benefits you didn't even know you had access to.
Rent Out Your House as an Airbnb
While Airbnb can provide reasonably priced accommodations, helping reduce costs on travel, it can actually help you make money while you travel.
Airbnb offers you the opportunity to rent your house out to travelers, turning your home into a temporary hotel. While you're away on a trip, use Airbnb to put your empty house to use. The money you make from your Airbnb guests can potentially cover many of the costs of your trip.
Become a Travel Influencer
Social media has become so big these days that you can actually receive benefits from posting those travel pics and even starting a travel blog. Travel bloggers are able to form partnerships with companies who will sponsor their travel as a result of creating sponsored content on the blog and social media, or even creating content for a specific company.
Many times, these influencers can also receive travel gear and equipment if they share affiliate links with their posts. If you're passionate about your travel and are looking to travel a lot, this could be the perfect chance to get paid to see the world.
Teach English Abroad
Not your average business trip, some companies offer you to teach English in foreign countries and in return they will cover your travel costs.
Diverbo is a company that gives you this opportunity. Diverbo allows adults and teens to work as volunteers abroad teaching English while exploring a new country. This also gives you the opportunity to interact directly with locals in a foreign country.
So, before you think that dream vacation is so far out of reach, try some of these tips to help you plan a trip for nearly free. Your friends will be jealous when they see all the places you've explored without having a huge budget.
About Currency Exchange International
Currency Exchange International (CXI) is a leading provider of foreign currency exchange services in North America for financial institutions, corporations and travelers. Products and services for international travelers include access to buy and sell more than 90 foreign currencies, multi-currency cash passport's, traveler's cheques and gold bullion coins and bars. For financial institutions and corporations, our services include the exchange of foreign currencies, international wire transfers, global EFT, the purchase and sale of foreign bank drafts, international traveler's cheques, and foreign cheque clearing through the use of CXI's innovative CEIFX web-based FX software www.ceifx.com