Japan's New Robot Could Become Your New Travel Companion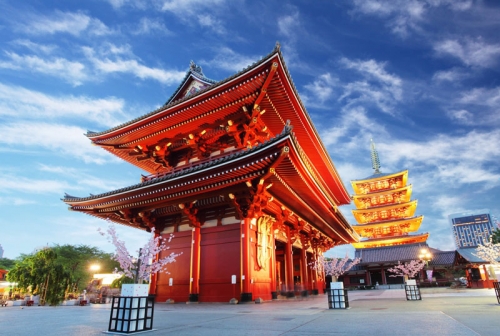 Ordering foreign currency online is easy with OnlineFX.
Recently, solo travel has been increasing in popularity. Many travelers find traveling independently to be more rewarding, giving them more freedom when making plans and pushing them outside of their comfort zone.
However, there are a variety of hurdles you can face when exploring a foreign country on your own or even with others. This year Japan released a now robot smartphone that can be your perfect travel guide and companion in Japan.
The RoBoHoN
This new gadget developed by Japanese electronics company, Sharp and engineer Tomotaka Takahashi is a human-shaped smartphone that could be the future of smartphones. This robot can walk and talk but also functions as a phone. The purpose of the design is to make smartphones more personal.
The RoBoHoN was made to specifically appeal to people's emotions. As today many people are attached to their phones, Sharp felt this was the best device to adapt the robot to. RoBoHoN uses face recognition to address the user and can communicate in Chinese and English.
A Robotic Tour Guide
Tourists can rent out one of the robotic phones at Tokyo's Haneda Airport. RoBoHoN can guide users on all historical, trendy, famous locations and even notify them of events going on in real time.
Using the GPS, the robot can provide suggestions of what to do based on your location. Not only is the robot able to tell you what is nearby, but it even discusses history and facts such as the way a real tour guide would.
In a review of the RoBoHoN by CNBC, they stated that "While walking near Tokyo Station, it began talking about the recent renovations made to the railway station." Renting the robot on a trip can cost as low as $12 per day. This is very low in comparison to typical tour costs.
Source: CNBC.
Changing Solo Travel
While the RoBoHoN can be useful for any group of travelers, it can be especially handy in solo travel. Not only will it help you find the best places to visit, but it can also serve as a travel companion.
The system's communication has not yet been perfected, but it continually collects data from communication with users to improve conversation skills over time.
Whether you're looking for the best way to explore Japan, or you just want the RoBoHoN to accompany you on your travels, this robot can really come in handy. It could even end up assisting you on travel around the world outside of Japan in the coming years.
About Currency Exchange International
Currency Exchange International (CXI) is a leading provider of foreign currency exchange services in North America for financial institutions, corporations and travelers. Products and services for international travelers include access to buy and sell more than 90 foreign currencies, multi-currency cash passport's, traveler's cheques and gold bullion coins and bars. For financial institutions and corporations, our services include the exchange of foreign currencies, international wire transfers, global EFT, the purchase and sale of foreign bank drafts, international traveler's cheques, and foreign cheque clearing through the use of CXI's innovative CEIFX web-based FX software www.ceifx.com