Swiss National Bank Announces New Currency to Enter Circulation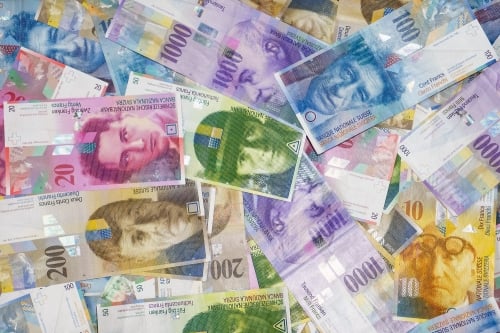 Ordering foreign currency online is easy with OnlineFX.
With the security of banknotes increasing over the past couple of years, many countries have begun to develop new banknote series that adopt these advanced features. This month, the Swiss National Bank announced its newest addition to their ninth banknote series, the CHF200 note.
This is the third note in the series and is set to be released into circulation on August 22. The new series of banknotes is made of a mix of cotton and polymer, with two outer layers of cotton paper and a polymer core. This use of materials makes the new banknotes more durable than traditional banknote paper.
The first note in this new series was the 50-franc note. This note went into circulation last April and displays "15 security features to thwart counterfeiters, including shimmery ink, glittery thread, window cut-outs, ultraviolet elements and microtext."
The theme of this series is "the many faces of Switzerland." The key motif of the 200 note will be physical matter. The purpose of this motif is to showcase Switzerland's scientific expertise, according to the SNB. While we currently haven't seen the design of this new banknote, it is set to be unveiled to the public on August 15.
A unique feature in the design of this series of banknotes is their intentional use of hands rather than faces. This was designed to reference all people, rather than a single personality from the past. The final two banknotes in the series, the CHF 100 and CHF 1,000, won't be released until 2019.
They will feature the two remaining motifs, water and language. The notes from the eighth series will continue to be legal tender without restriction. Not until these final notes are issued will the SNB begin to recall the notes from the eighth series, according to the SNB.
About Currency Exchange International
Currency Exchange International (CXI) is a leading provider of foreign currency exchange services in North America for financial institutions, corporations and travelers. Products and services for international travelers include access to buy and sell more than 90 foreign currencies, multi-currency cash passport's, traveler's cheques and gold bullion coins and bars. For financial institutions and corporations, our services include the exchange of foreign currencies, international wire transfers, global EFT, the purchase and sale of foreign bank drafts, international traveler's cheques, and foreign cheque clearing through the use of CXI's innovative CEIFX web-based FX software www.ceifx.com