Switzerland's New 10 Franc Currency Released October 18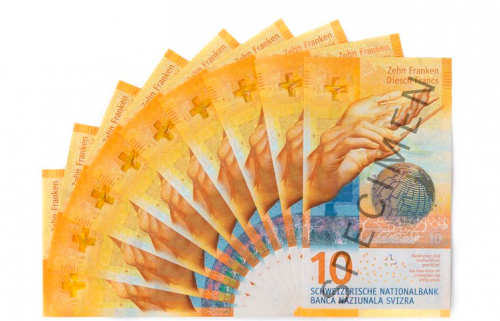 Ordering foreign currency online is easy with OnlineFX.
Switzerland's new banknote series will reach its halfway mark on October 18 with its newest addition, the 10-franc bill. "More than 20 years have passed since the last banknote series was issued," according to the Swiss National Bank.
In order to keep up with the technological innovations of today's banknotes, the SNB was due for a new series to stay up to date with high security standards, and the modern design banknotes are adopting. With the 50-franc and 20-franc notes already in circulation, let's see what this new banknote brings to the table.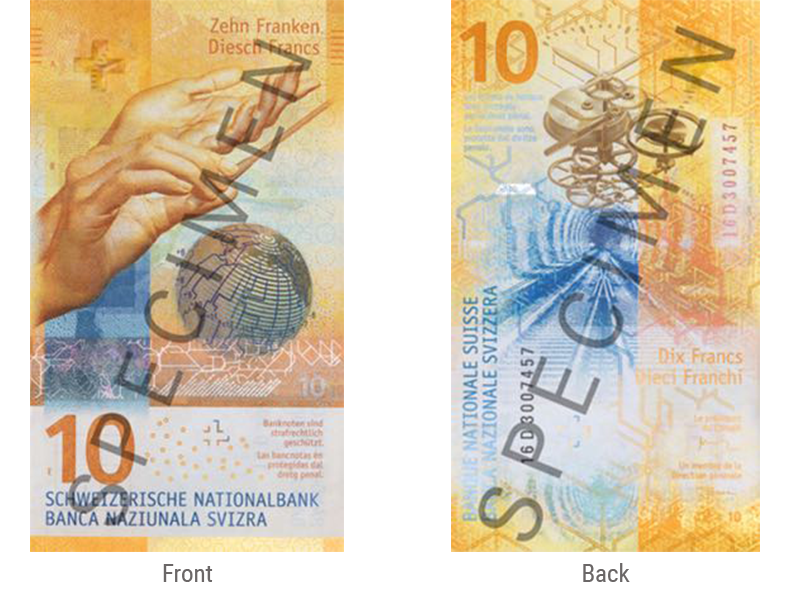 Source: Banknote News
The design of the new ninth series as a whole is representing typical Swiss characteristics using key motifs while keeping with the same colour scheme as before.
With a background made up of clock faces and a globe broken down into time zones, the 10-franc note emphasizes Switzerland's reputation for impeccable organization through use of the key motif of time. Also symbolizing time are a conductor's hands across the middle of the banknote as if setting the tempo.
The back of the note highlights Switzerland's rail network. While the tunnel going up the center makes this obvious, one may not realize that the whole design of the background depicts a section of this rail network.
Every Swiss town is connected to the train system. No complex rail network would be functional without top of the line organization and precise time-keeping.
There are a variety of security features included on these newly released notes. One feature is a globe that will only become visible under UV light. A more tactile feature included on the note is raised print in certain areas.
You can also see a transparent Swiss cross when held up to the light turns into the Swiss flag. All these features and more are not only visually pleasing, but help make this series of banknotes more secure.
There is still plenty to look forward to as three more banknotes will be released, the 100-franc, the 200-franc, and the 1,000-franc notes. These notes will feature the themes of Switzerland's humanitarian tradition, scientific expertise, and communicative flair. Look out for the 200-franc coming autumn 2018!
About Currency Exchange International
Currency Exchange International (CXI) is a leading provider of foreign currency exchange services in North America for financial institutions, corporations and travelers. Products and services for international travelers include access to buy and sell more than 90 foreign currencies, multi-currency cash passport's, traveler's cheques and gold bullion coins and bars. For financial institutions and corporations, our services include the exchange of foreign currencies, international wire transfers, global EFT, the purchase and sale of foreign bank drafts, international traveler's cheques, and foreign cheque clearing through the use of CXI's innovative CEIFX web-based FX software www.ceifx.com