The Best Fourth of July Celebrations Around the World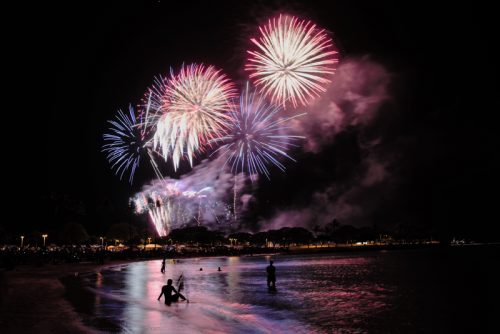 Ordering foreign currency online is easy with OnlineFX.
All over the U.S. July 4th is filled with fireworks, barbeques, and more. For those of you traveling abroad during Independence day, there are plenty of international celebrations so you don't have to feel left out. From pie eating contests to reenactments of the Boston Tea Party, these countries cover it all!
Denmark
If you're looking to celebrate Independence Day in Denmark, Rebuild is the town you need to go to. They hold a four-day long festival combining Danish and American traditions. This celebration is "supposedly the largest celebration of America's Independence abroad."
China
Shanghai is full of special events dedicated to July 4th! At Shanghai Center, they're holding Star Spangled Summer Fest. With gourmet food, craft beers, live music, and even a pie eating contest, Shanghai will provide you a day of festivities.
Ireland
New Ross is holding it's 5th "Irish America Fest." They kick off the event with a reading of the Declaration of Independence. Among other events, they even conduct a Boston Tea Party reenactment. Live music and BBQs will keep you entertained until the firework display over the river Barrow.
London
Start your celebration in London by visiting the London home of founding father, Benjamin Franklin, for cake and a look at the beautiful architecture of this building. If you want to spend the day exploring outside, check out the Independence Day Picnic at Portman Square Garden. In addition to an elaborate barbeque, there's face painting and crafts along with live music all day.
Rome
Marymount International School is the place to be if you're spending July 4th in Rome. While you do have to buy tickets in advance, this party is full of games, raffles, live music, and of course American food.
If you're traveling abroad this holiday weekend, there is no shortage of international events celebrating Independence Day. Enjoy the food, fireworks, and entertainment many of these countries have to offer!
About Currency Exchange International
Currency Exchange International (CXI) is a leading provider of foreign currency exchange services in North America for financial institutions, corporations and travelers. Products and services for international travelers include access to buy and sell more than 90 foreign currencies, multi-currency cash passport's, traveler's cheques and gold bullion coins and bars. For financial institutions and corporations, our services include the exchange of foreign currencies, international wire transfers, global EFT, the purchase and sale of foreign bank drafts, international traveler's cheques, and foreign cheque clearing through the use of CXI's innovative CEIFX web-based FX software www.ceifx.com