The Inclusion of the Yuan Currency in the Special Drawing Rights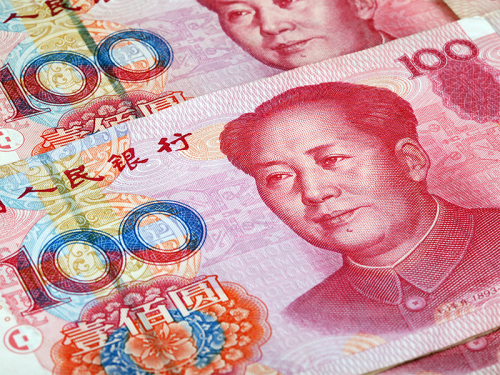 While the yuan is the most recent to join the basket that forms the IMF's Special Drawing Rights (SDR), this basket has been around since 1969. The five major currencies that make up the SDR basket are the following:
US dollar - USD

Chinese yuan - CNY

European Central Bank euro - EUR

Japanese yen - JPY

British pound sterling - GBP
"As of September 2017, 204.2 billion SDRs had been created and allocated to members." Here's a look at what it means to be a part of the SDR and what purpose it serves.
What is the purpose of Special Drawing Rights?
Let's start with what the Special Drawing Rights were created to do. The SDR were created by the International Monetary Fund in 1969 to function as a supplement to the already existing reserves of member countries.
The value of the SDR is determined based on the basket of currencies that the International Monetary Fund selects as major currencies.
How are currencies included in the Special Drawing Rights?
In order to be included in the SDR, there's a couple of criterias the currencies must meet, explained below.
The first criteria: The currency is issued by a top exporter. This ensures that the basket is comprised of currencies that all play a central role in the global economy.
The second criteria: The currency is "freely usable." This means its widely used in international transactions and exchange markets.
Every five years the IMF Executive Board reviews the SDR to evaluate the selection criteria, the weighting methodology, and the composition of the basket.
The past review resulted in the addition of the Chinese yuan into the Special Drawing Rights. This addition is the only time a new currency has been added since 1999, when the euro replaced the French franc and the Deutsche mark.
Timeline of the Special Drawing Rights Basket of Currencies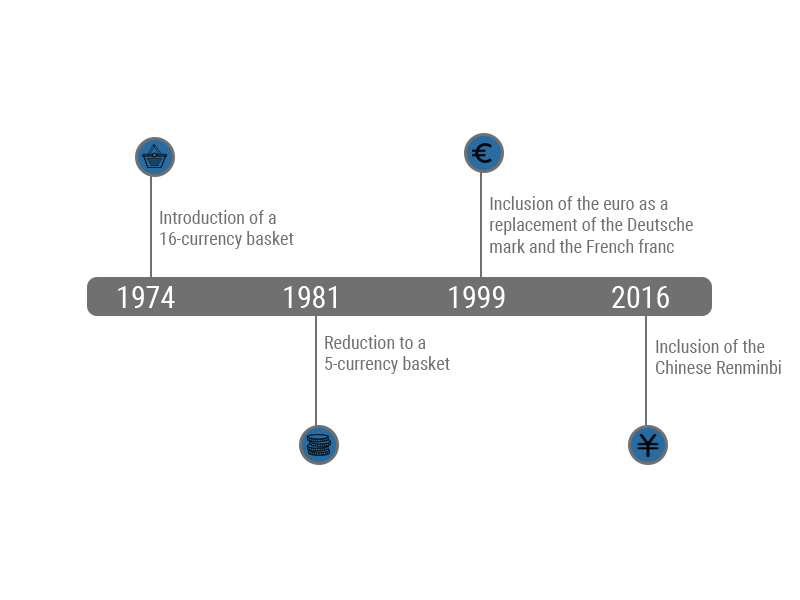 Source: IMF
"The RMB's inclusion is an important milestone in the integration of the Chinese economy into the global financial system."
This reflects China's emerging role in the global market. It also highlights China's monetary, foreign exchange, and financial systems progress. By being included in the SDR basket, it's likely that the renminbi's international role will see even more of an increase.
As you can see, the International Monetary Fund is constantly working to make sure the SDR is valued correctly and is composed of the best currencies to fit its purpose.
From changing 16-currency baskets to 5-currency baskets to its inclusion of the renminbi, it's clear to see the SDR develops with the ever changing global market.
Looking For International Payments Solutions?
Get access to our free whitepaper and unlock everything you're missing.
Learn More
About Currency Exchange International
Currency Exchange International (CXI) is a leading provider of foreign currency exchange services in North America for financial institutions, corporations and travelers. Products and services for international travelers include access to buy and sell more than 90 foreign currencies, multi-currency cash passport's, traveler's cheques and gold bullion coins and bars. For financial institutions and corporations, our services include the exchange of foreign currencies, international wire transfers, global EFT, the purchase and sale of foreign bank drafts, international traveler's cheques, and foreign cheque clearing through the use of CXI's innovative CEIFX web-based FX software www.ceifx.com