Top 10 Best Gifts for People Who Love to Travel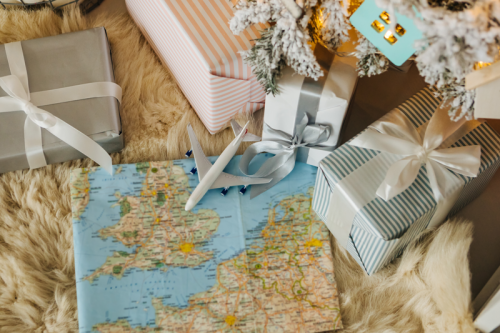 Ordering foreign currency online is easy with OnlineFX.
With the holidays coming up, we know sometimes it can be tough to find that perfect gift. Since the holiday season is right around the corner, we want to help you scratch off that wish list.
You know, that one family member who can't stop planning their next getaway, or what about that friend who always seems to share the most amazing travel photos from their adventures around the world.
This is why we've put together a list of the best gifts to give anyone who loves to travel. Everything from earbuds that translate multiple languages to collapsible water bottles, every traveler would love receiving any or all of these.
1. The Explorer: Google Translating Earbuds
Google has recently released earbuds that will give real-time translation with Google Translate. These Pixel Buds can translate 40 languages, making the perfect gift for someone traveling to a foreign country.
If someone speaks to you in a foreign language it will translate in your ear, and when you speak to reply back, the earbuds will play the translation through front facing speakers in the foreign language.
2. The Cozy Connoisseur: Infinity Pillow
From being used for neck support to a comfy lumbar pillow, the Huzi infinity pillow is great for both the long and short distance traveler.
This versatile pillow can be molded to fit your needs whether you're on a plane, in a car, or even when you're lounging around the house. With its ability to morph into so many shapes, you will be able to stay comfortable during every part of your trip.
3. The Planner: Luggage Scales
While overpacking doesn't seem like such an issue in the moment, it becomes one when the airline company tells you they're going to charge you over-weight fees.
Help your friends save tons of money in the long run with a personal luggage scale, so they can make sure they fall within the weight limit before they get to the airport.
4. The Wanderlust Collector: Scratch-Off Map
For your friend who is known to travel all around the globe, a scratch-off map may be the perfect gift this year. When a country is scratched off it begins to make the map colorful, displaying where you have visited.
5. The Fashionista: Travel Iron
Anyone who has packed a suitcase is familiar with the feeling of unpacking to discover all their clothes covered in wrinkles. A travel iron is the perfect addition to anyone's packing list.
Your friends with thank you over and over for how handy this mini iron will be on trips.
6. The Techie: Universal Charger
There are a variety of universal chargers designed for any of your travel needs whether it's in the air, in a car, or just into the wall.
Amazon has a variety of chargers that can even plug into international ports. This way when your favorite traveler is off on an adventure, their devices will always be charged up to keep in touch with you.
7. The Ravenous Reader: Kindle
Is your favorite traveler an avid reader? If so, a kindle might be the perfect gift for them.
Often, the best way to pass the time on a long plane ride is with a good book. However, to save space and avoid cluttering your carry on with piles of books, the kindle has it all in one sleek tablet.
8. The Daredevil: Anywhere Travel Guide
Have an adventurous friend? The anywhere travel guide is a deck of 75 cards that can guide you on what to do on any trip. It could help you discover something you wouldn't have thought of on your own.
9. The Artist: Passport Holder
For someone who travels abroad a lot, they are constantly using their passport. Because of this, a passport holder can be exactly what they need to make sure it stays safe through all their travels.
Also, with such a variety of holders available, you can get one that matches the personality of whoever you are giving it to.
10. The Nature Lover: Collapsible Water Bottles
Those who adventure outdoors will enjoy a water bottle that is easy to store when empty. Hydaway creates a water bottle that's durable and when empty can collapse to fit anywhere, even your back pocket.
We hope these have inspired you to find the perfect travel gifts for this holiday season. Which one sounds most like you? Let us know if we left anything out.
About Currency Exchange International
Currency Exchange International (CXI) is a leading provider of foreign currency exchange services in North America for financial institutions, corporations and travelers. Products and services for international travelers include access to buy and sell more than 90 foreign currencies, multi-currency cash passport's, traveler's cheques and gold bullion coins and bars. For financial institutions and corporations, our services include the exchange of foreign currencies, international wire transfers, global EFT, the purchase and sale of foreign bank drafts, international traveler's cheques, and foreign cheque clearing through the use of CXI's innovative CEIFX web-based FX software www.ceifx.com