Travel Tuesday: Istanbul, Turkey
Jacquelyn
July 14th, 2015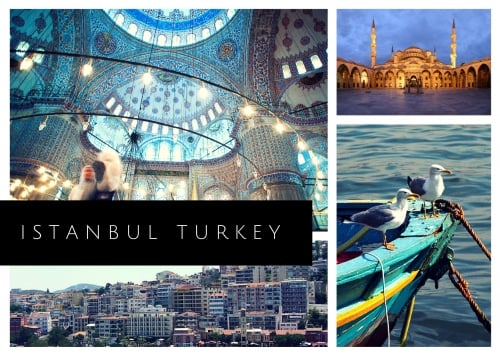 Merhaba (hello)! This magical meeting place of East and West has more top-drawer attractions than it has domes and towers. When walking down a city street, layers of history will unfold before your eyes. There's no denying Istanbul will give you an extraordinary cultural experience that lies around every corner. Here are some more top things to do in Istanbul and best places to stay while you're there.
Things to do:
Hagia Sophia museum former Christian patriarchal basilica, later an imperial mosque, now a museum
Blue Mosque

built in 1616 & containing its founder's tomb.

Topkapi Palace

a large palace in Istanbul, Turkey, that was the primary residence of the Ottoman sultans for approximately 400 years of their 624-year reign.

Ayasofya Hurrem Sultan Hamam

16th-century, Ottoman-style hammam offering traditional Turkish baths & massages, plus on-site restaurant.
:Restaurants
Zübeyir Ocakbaşı a traditional Istanbul kebab house that many locals rave about.
Vefa Bozacısı a

famous bar for the risk takers, we dare you to try it.

Develı Baklava i

f you can't wait to try the most delicious baklava ever. It's rated as one of the best in Istanbul and the locals love it!
Hotels:
Events:
The International İstanbul Tulip Festival takes place each year. The city's parks and gardens are planted with over nine million tulips that come into bloom in late March or early April each year.
Airports:
Atatürk International Airport (IST) Sabiha Gökçen International Airport (SAW).
Weather:
The best time of the year recommended to go is from April - May and September - October.
Currency:
Language:
Turkish
Now over to you:
Take a sneak peek on the diversity of Turkey in the video below. So are you pumped and ready to go? Have you added Istanbul to your bucket list? Did you see something that inspired you to go? Perhaps you've already traveled to Istanbul before? What did you learn and love about it? Share your experience and opinion in the comments below.