Treat Your Dad with Travel This Father's Day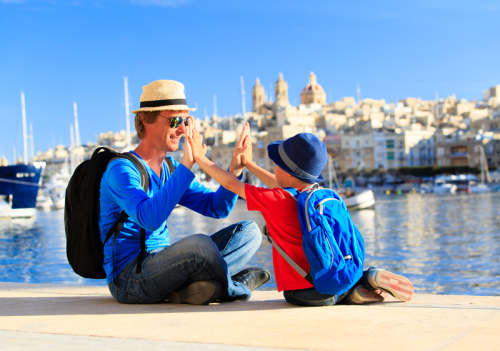 Ordering foreign currency online is easy with OnlineFX.
Father's Day is right around the corner and it always seems harder to shop for dad than it is for mom. He's already got plenty of tools and ties, so make this year extra special with the gift of travel. Below are some of the dad approved trips that will be sure to make his day.
Explore the Galápagos
For those dads who love to be outdoors, the Galápagos will prove to be a great adventure. There is a variety of wildlife to see from marine iguanas and tortoises to sea lions and penguins. Spend time diving in the water or take a hike on land. Each day can be filled with a new adventure.
Unwind in Hawaii
If your dad is in need of a laid-back and relaxing trip, take him to the ultimate island destination, Hawaii. Hop from island to island or stay in one place, your dad will thank you either way.
Unwind at one of the numerous beaches that make up the island and take him to a luau for a great meal and unforgettable night. Hawaii's culture will no doubt make him forget about the stress of work while you're away.
Hit the Greens in Scotland
Is your dad an avid golfer? Maybe you should think about taking him to Scotland, home of the Old Course at St. Andrews. This is the most famous golf course in the world according to National Geographic.
Located on Scotland's east coast, St. Andrews is any golf lovers dream. Of course there's plenty else to explore while you are in Scotland too such as the St. Andrews Castle and even the British Golf Museum.
Ultimate Fishing in Canada
In Nimmo Bay, British Columbia surprise your father with a Heli-fishing trip. Not your average day out on the boat, the Heli-fishing expedition takes you in a helicopter and drops you off in the perfect spot to catch Pacific Salmon and Trout. This unique experience is offered from July 19 to October 20.
Catch a Major League Game in the U.S.
Did you grow up attending baseball games as a kid with your dad? Relive those childhood memories in an extra special way by taking him on a Major League Baseball stadium tour. Conveniently, these happen during the summer and you can take your pick visiting some of the classics such as Wrigley Field or Fenway Park.
From trips for relaxing, adventure, or even sports, you can definitely claim the title of favorite child if you plan any one of these trips for your dad. Watch out though, mom might build some high expectations for next Mother's Day!
About Currency Exchange International
Currency Exchange International (CXI) is a leading provider of foreign currency exchange services in North America for financial institutions, corporations and travelers. Products and services for international travelers include access to buy and sell more than 90 foreign currencies, multi-currency cash passport's, traveler's cheques and gold bullion coins and bars. For financial institutions and corporations, our services include the exchange of foreign currencies, international wire transfers, global EFT, the purchase and sale of foreign bank drafts, international traveler's cheques, and foreign cheque clearing through the use of CXI's innovative CEIFX web-based FX software www.ceifx.com