U.S. And 11 Countries Sign Contract To End Currency Manipulation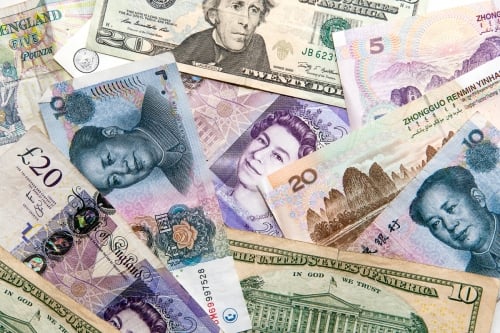 Treasury Secretary Jacob Lew, speaking at a conference in Washington, D.C., last month, says the pact announced on Thursday it will hold countries that want to manipulate their currencies accountable.
The United States and 11 other countries have signed an agreement aimed at discouraging currency manipulation, a practice critics say has widened the U.S. trade gap with countries such as China.
Under the agreement, countries promise to avoid "Unfair currency practices and refrain from competitive devaluation."
In an e-mailed statement to NPR, Lori Wallach, director of Public Citizen's Global Trade Watch, called the agreement "a glorified press release sent out jointly by the countries."
"It's essentially giving more tools and data for the Treasury Department to push its financial diplomacy with partner countries."
Currency manipulation occurs when countries artificially lower the value of their currencies, which makes their exports cheaper but hurts competitors in other countries.
China has long been accused of manipulation, although not as much in recent years, as the value of the yuan has risen. Among TPP signatories, Vietnam is sometimes accused of the practice as well. Below are the 12 countries included in the TPP.
About Currency Exchange International
Currency Exchange International (CXI) is a leading provider of foreign currency exchange services in North America for financial institutions, corporations and travelers. Products and services for international travelers include access to buy and sell more than 80 foreign currencies, multi-currency cash passport's and traveler's cheques. For financial institutions, our services include the exchange of foreign currencies, international wire transfers, purchase and sale of foreign bank drafts, international traveler's cheques, and foreign cheque clearing through the use of CXI's innovative CEIFX web-based FX software https://www.ceifx.com.