U.S. Treasury Unveils New $20 $10 and $5 Bill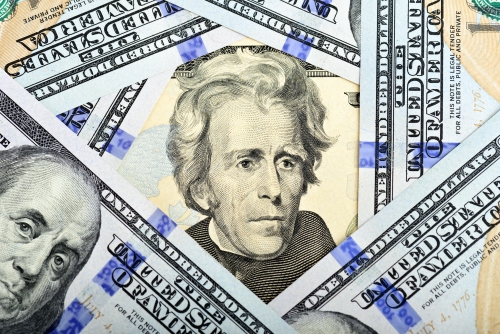 Last week the U.S Treasury Department announced that Harriet Tubman will be the new face on the $20 bill. That's only the beginning because they're also going to update the $10 and $5 bill, according to LA Times. 
So while most people were busy focusing on this new change that was only one bill getting attention. While many think Harriet Tubman is replacing Andrew Jackson, she is not because he will still be featured on the same $20 bill, on the reverse side of the currency - he's not going anywhere folks. 
Looking back on her life, Tubman once said, "I would fight for liberty so long as my strength lasted." pic.twitter.com/iqGJ4ldGvs

— Treasury Department (@USTreasury) April 24, 2016
Now on the front of the new $10 bill they will keep the image of Alexander Hamilton. The back of the new $10 bill they will feature images of Lucretia Mott, Sojourner Truth, Susan B. Anthony, Elizabeth Cady Stanton, and Alice Paul, next to the Treasury building. 
The front of the new $5 bill will keep the image of President Lincoln. On the back will feature Martin Luther King, Jr., Marian Anderson, and Eleanor Roosevelt. 
"Since we began this process, we have heard overwhelming encouragement from Americans to look at notes beyond the $10. Based on this input, I have directed the Bureau of Engraving and Printing to accelerate plans for the redesign of the $20, $10, and $5 notes," said Secretary of the U.S. Treasury Jacob J. Lew in an open letter to the public. 
The new theme for the next generation of banknotes will be focused on democracy. All of the new banknotes are scheduled to be completed and introduced by 2020. Guess what? This will be precisely the moment in history when the U.S. will celebrate its 100th anniversary of the 19th Amendment, which guaranteed all American women the right to vote.
About Currency Exchange International
Currency Exchange International (CXI) is a leading provider of foreign currency exchange services in North America for financial institutions, corporations and travelers. Products and services for international travelers include access to buy and sell more than 90 foreign currencies, multi-currency cash passport's, traveler's cheques and gold bullion coins and bars. For financial institutions, our services include the exchange of foreign currencies, international wire transfers, purchase and sale of foreign bank drafts, international traveler's cheques, and foreign cheque clearing through the use of CXI's innovative CEIFX web-based FX software www.ceifx.com