Why Currency Won't Become a Thing of the Past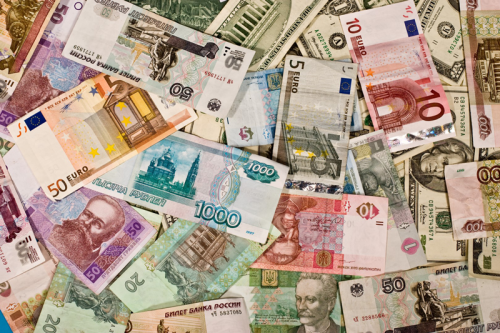 Ordering foreign currency online is easy with OnlineFX.
Apple Pay, Square Cash, and Venmo are all ways to spend money without the use of any cash. As technology continues to advance we are finding more and more alternatives to simply making payments with cash. The question is, are the addition of these payment options really leading to an end of cash?
Here are the Facts
The Federal Reserve Bank of San Francisco pulled together the cash use in 42 economies across the globe, which together account for 75 percent of world GDP.
They estimated cash use by looking at currency in circulation, defined as the total amount of cash held by the public, including businesses, bank, and consumers. This data confirmed that currency in circulation has been increasing over the past decade, unlike popular belief.
Global Trends
Comparing currency in circulation growth with GDP growth in 42 countries, it has been evident that currency in circulation outpaced the growth of GDP, if not matched it in almost every country in the past decade.
"Presumably, very low interest rates in many countries over the past decade has been one factor boosting the demand for cash, as well as uncertainty following the global financial crisis."
Why Cash Still Remains
Despite many technological innovations that create new ways to make payments, there are a variety of reasons that cash is still held. Many people hold cash as a store of value. In an emergency or time of political or economic turmoil, holding cash can ensure immediate access to money.
Cash is also widely accepted and provides the convenience of not requiring a device or any type of account. The actual amount of cash the public chooses to hold can fluctuate with changing income and interest rates.
The Two Outliers
In contrast with the countries we were mentioning earlier, Norway and Sweden have seen their currency in circulation decreasing. Norway's largest bank has actually eliminated cash in its branches.
Meanwhile, Swedish banks have promoted switching to cashless practices. "According to central bank, the Riksbank, cash transactions made up barely 2 percent of the value of all payments made in Sweden last year."
As you can see, although many countries have adopted digital payment practices, cash is still highly common. Not only has currency in circulation been increasing over the last decade, but this increase has been even higher than the GDP increase. The only countries that seem to see a fully digital payments future are Norway and Sweden.
About Currency Exchange International
Currency Exchange International (CXI) is a leading provider of foreign currency exchange services in North America for financial institutions, corporations and travelers. Products and services for international travelers include access to buy and sell more than 90 foreign currencies, multi-currency cash passport's, traveler's cheques and gold bullion coins and bars. For financial institutions and corporations, our services include the exchange of foreign currencies, international wire transfers, global EFT, the purchase and sale of foreign bank drafts, international traveler's cheques, and foreign cheque clearing through the use of CXI's innovative CEIFX web-based FX software www.ceifx.com