Why Plastic Banknotes Could Be Currency of the Future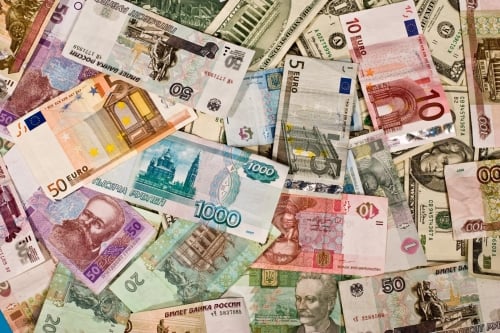 Ordering foreign currency online is easy with OnlineFX.
The Bank of England is continuing the polymer banknote trend with its second plastic banknote design. An idea that originated in Australia, plastic banknotes are becoming more widespread as banks recognize the value in this new trend. Here's some insight on the new £10 note and what makes polymer notes so special.
Britain's £10 note featuring Jane Austen
The #NewTenPoundNote featuring Jane Austen: coming 14 September 2017. https://t.co/VMGsueavyh pic.twitter.com/f6PF9DWglM

— Bank of England (@bankofengland) July 18, 2017
The new £10 banknote features Jane Austen, a well-known novelist who received little recognition until after her death. Although not in circulation yet, the note was unveiled on July 18, 2017, the 200th anniversary of her death. What really makes this banknote special is its continuation of the new polymer banknote series. With its beautiful design and added features, this note is helping England phase out of paper banknotes and into plastic.
Durability
"Though polymer notes are not indestructible, they can withstand more wear and tear than their paper counterparts." With their resistance to dirt and moisture, these notes are able to stay intact longer than paper notes ever could. With this strong durability in mind, the introduction of polymer notes also proves to be more environmentally friendly. According to the central bank, these notes are expected to last at least 2.5 times longer than paper notes which means they won't have to be replaced as often, using less materials and processes to produce and maintain them.
Security
With the ability to include enhanced security features, these new banknotes are harder to counterfeit. The £10 exemplifies an array of these possible features including two holograms, one which contains the word 'Ten' and changes to 'Pounds' based on the notes tilt and the other of the coronation crown which appears 3D and multi-colored when the note is tilted. Among other features there is also a book-shaped copper foil patch which contains the letter JA. As you can see the variety of features that can be included on polymer banknotes greatly surpass the type of security measures possible with paper notes.
New tactile feature
The front of this new note will also include a tactile feature to help blind and partially sighted people easily identify the value of the note. This feature is made up of two clusters of raised dots in the top left had corner. Their upcoming bills will also contain this feature, just with a different pattern.
What about your current £10 notes?
You don't have to worry about switching out your current £10 notes. The paper £10 notes will gradually go out of circulation as they are banked by retailers and the public according to the Bank of England. Not until Spring 2018 will the paper £10 note be withdrawn from legal tender status. Notice will be given at least 3 months prior to the withdrawal date.
What's next?
Seeing the success of switching to polymer the Bank of England has already planned its third polymer banknote. The next banknote in the polymer series is going to be the £20 note. It will feature the artist J.M.W Turner and will be launched in 2020. This note will have many of the similar added features as the £10 note. With all this change, are paper banknotes going to become a thing of the past?
About Currency Exchange International
Currency Exchange International (CXI) is a leading provider of foreign currency exchange services in North America for financial institutions, corporations and travelers. Products and services for international travelers include access to buy and sell more than 90 foreign currencies, multi-currency cash passport's, traveler's cheques and gold bullion coins and bars. For financial institutions and corporations, our services include the exchange of foreign currencies, international wire transfers, global EFT, the purchase and sale of foreign bank drafts, international traveler's cheques, and foreign cheque clearing through the use of CXI's innovative CEIFX web-based FX software www.ceifx.com