Here Are The Most Powerful Passports Around The World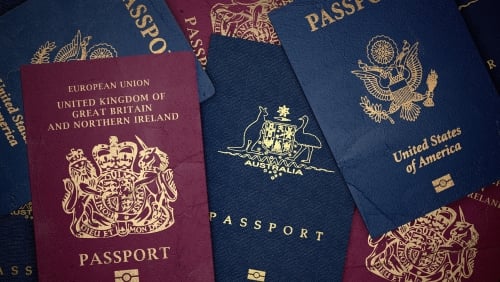 The ranking shows which passports give holders the most global mobility, based on how many countries can be visited without a visa, or by getting one upon arrival.
Developed countries with advanced economies fare the best. Tied for first place are U.S. and U.K. passports, which give holders access to 147 countries.
Here are the top ranked most powerful passports, followed by the number of countries they offer access to:
U.S. and U.K. (147 countries)

France, South Korea, Germany (145)

Sweden, Italy (144)

Denmark, Singapore, Finland, Japan, Luxembourg, Netherlands (143)

Switzerland (142)
And the bottom ranked passports are:
Congo (Dem. Rep.), Yemen, Central African Republic, Kosovo (41)

Equatorial Guinea, Bhutan, Comoros, Burundi (40)

Somalia, Eritrea (39)

Afghanistan, Djibouti, Iraq, Ethiopia, Nepal (38)

South Sudan, Solomon Islands, Palestinian Territories, Sao Tome and Principe, Myanmar (28)
The full country list is based on 193 United Nations member countries and six territories, and visa data is from the International Air Transport Association and other sources.
About Currency Exchange International
Currency Exchange International (CXI) is a leading provider of foreign currency exchange services in North America for financial institutions, corporations and travelers. Products and services for international travelers include access to buy and sell more than 80 foreign currencies, multi-currency cash passport's and traveler's cheques. For financial institutions, our services include the exchange of foreign currencies, international wire transfers, purchase and sale of foreign bank drafts, international traveler's cheques, and foreign cheque clearing through the use of CXI's innovative CEIFX web-based FX software https://www.ceifx.com.