Bank of Canada Unveils New $10 Banknote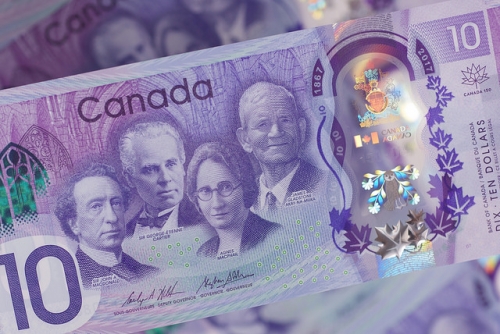 Photo: Bank of Canada
Ordering foreign currency online is easy with OnlineFX.
Bank of Canada announced a new $10 banknote in honor of celebrating the 150th anniversary of confederation. It's set to begin circulation on June 1, 2017 and the day has finally arrived.
The special banknote will showcase the history, land and culture of Canada. "This bank note is intended to captivate our imagination and instill pride in what we, as a nation, have accomplished," said Governor Poloz.
For the first time, there will be four important individuals featured on the front side of the note: Sir John A. Macdonald, Sir George-Étienne Cartier, Agnes Macphail and James Gladstone.
It will also represent the first time a native Canadian and a Canadian woman are displayed on the same banknote in Canada. Here is a video with the new security features you will see on the new banknote.
Fun fact:
If you go to their website and enter the right set of konami code keys (up, up, down, down, left, right, left, right, b, a) the national anthem starts playing and tiny animated banknotes shower down like confetti on the screen. To try it out for yourself
click here.
Related blog posts:
About Currency Exchange International
Currency Exchange International (CXI) is a leading provider of foreign currency exchange services in North America for financial institutions, corporations and travelers. Products and services for international travelers include access to buy and sell more than 90 foreign currencies, multi-currency cash passport's, traveler's cheques and gold bullion coins and bars. For financial institutions and corporations, our services include the exchange of foreign currencies, international wire transfers, global EFT, the purchase and sale of foreign bank drafts, international traveler's cheques, and foreign cheque clearing through the use of CXI's innovative CEIFX web-based FX software www.ceifx.com