Currency Exchange International at the Americas Cash Cycle and Payments Seminar 2023
Brenda
November 16th, 2023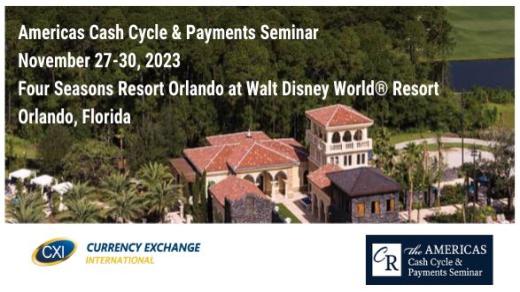 Schedule a call now to become a CXI client.
Currency Exchange International (CXI) is proud to announce, CXI President and CEO Randolph W. Pinna will be a guest speaker at the Americas Cash Cycle and Payments Seminar 2023. This year's event will be hosted in Orlando, Florida from November 27-30, 2023
About the Conference and Who Will Attend
The Cash Cycle Seminar, formerly known as ICCOS, is the premier global seminar for commercial cash management, distribution, and circulation. The seminar brings together all stakeholders in cash circulation to share perspectives, ideas, cost-saving technologies, strategies, best practices, and case studies for the betterment of the industry. For the first time, the Americas Cash Cycle Seminar is adding both the cash and payments topics, focusing on regional implications and the latest trends in the cash and payments industry. Two days dedicated to Latin America and a tour of the Federal Reserve.
The seminar is the most recognized educational seminar in the region to focus on the complete cash cycle, promoting efficiency and security in cash operations by Central Banks, Commercial Banks, Cash Management Companies (CMCs) / CITs, and others. The seminar is held in a relaxed and professional environment that offers the perfect setting for effective networking.
Topic at the Event
Join CXI's President and CEO Randolph Pinna, as he discusses Foreign Currency Exchange Landscape & Trends: November 30, 2023, at 9:00 AM - event page.
CXI understands the importance of finding new methods to deliver change and advance technology to the foreign exchange industry. Our value is to help our clients identify and create foreign exchange solutions, delivering a best practices approach through unparalleled customer service and integrated technology to create significant financial and operational efficiencies.
Social Media
Share your photos and experiences on LinkedIn or Twitter! Don't forget to mention us to give us permission to re-post it on LinkedIn and Twitter.
Event Details
Four Seasons Resort Orlando at Walt Disney World® Resort
10100 Dream Tree Blvd, Lake Buena Vista, FL 32836
November 27 - 30, 2023
About Currency Exchange International
Currency Exchange International, CXI, is the leading provider of comprehensive foreign exchange services, risk management solutions and integrated international payments processing technology in North America. CXI's relationship-driven approach ensures clients receive tailored solutions and world-class customer service. Through innovative and trusted FX software platforms, CXI delivers versatile foreign exchange services to our clients, so that they can efficiently manage and streamline their foreign currency and global payment needs. CXI is a trusted partner among financial institutions, corporations and retail markets around the world. To learn more, visit: www.ceifx.com