CXI Introduces #PayItForward and Support to the Foundation for Foster Children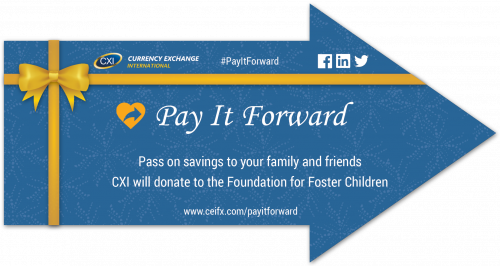 Currency Exchange International is launching the #PayItForward campaign this holiday season from November 13, 2017 - January 7, 2018.
Now you can pass on savings to a family or friend you know, while CXI and its employees #PayItForward by donating to the Foundation for Foster Children. We also invite you to join the cause and donate if you'd like.
How to #PayItForward at Participating CXI Locations
To participate simply follow these steps when you get your referral card, at any of our participating CXI locations during any of the following transactions: foreign currency, foreign traveler, or multi-currency cash passport.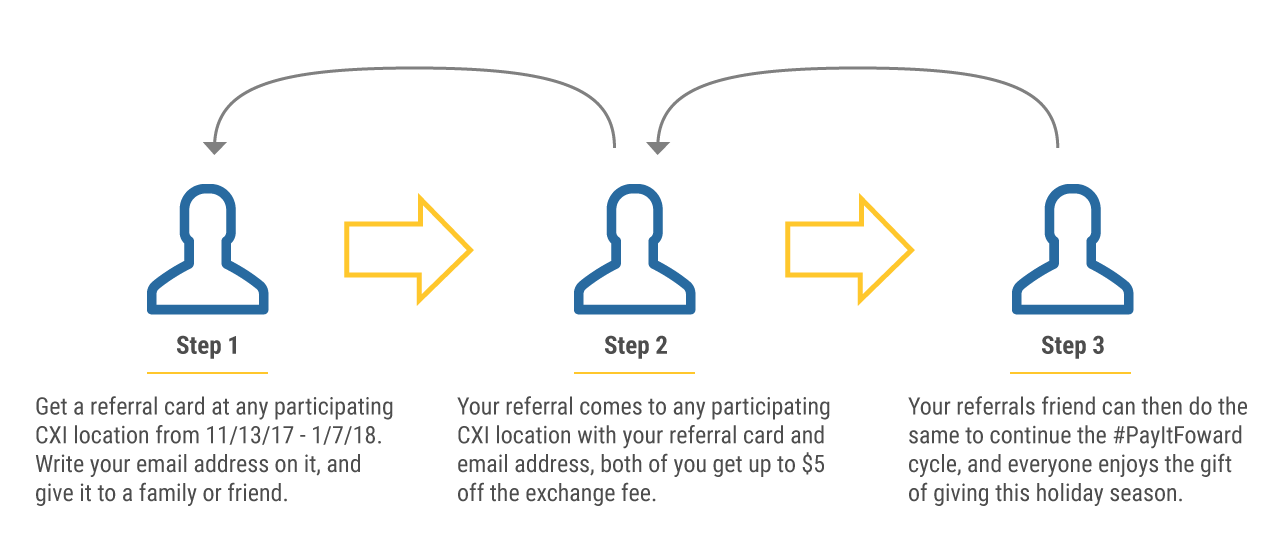 You can then pass on the card with your email address on it to #PayItFoward. Once our teller has the completed referral card, the referred customer can enjoy up to $5 off their exchange fee and so can you.
Then they can continue the #PayItForward cycle to any family or friend that gets the referral card, so they can also get up to $5 off their exchange fee.
When your friend receives the referral card, let them know they can reserve their currency for free. Here is a sample of what the referral card looks like.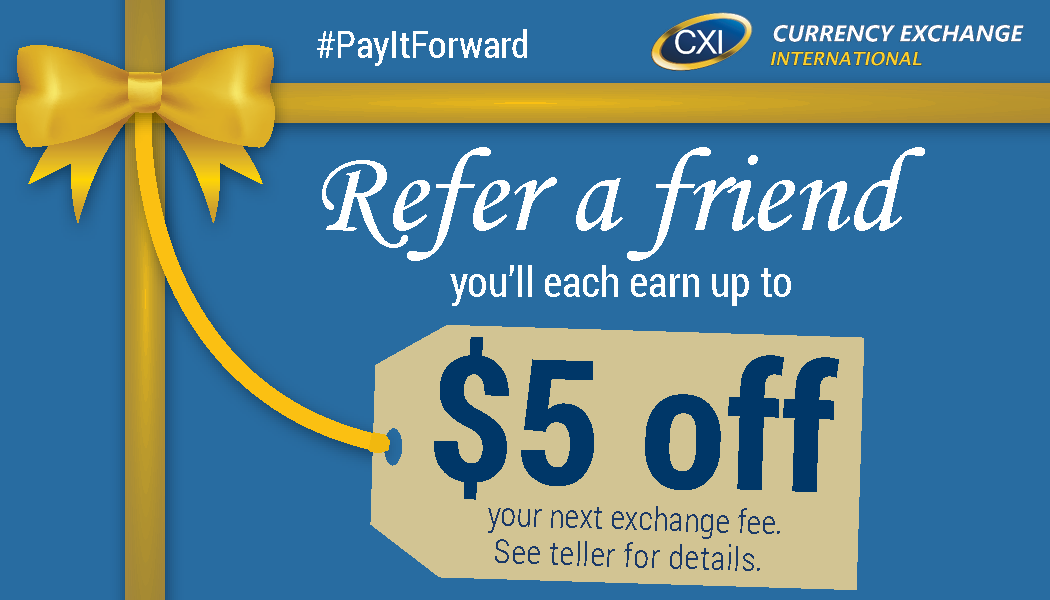 Don't forget to join the conversation and share how you #PayItForward on Facebook, Twitter, and LinkedIn. Join our platinum passport newsletter if you'd like updates on our current fundraising status, and you'll get a weekly status update.
About Currency Exchange International
Currency Exchange International (CXI) is a leading provider of foreign currency exchange services in North America for financial institutions, corporations and travelers. Products and services for international travelers include access to buy and sell more than 90 foreign currencies, multi-currency cash passport's, traveler's cheques and gold bullion coins and bars. For financial institutions and corporations, our services include the exchange of foreign currencies, international wire transfers, global EFT, the purchase and sale of foreign bank drafts, international traveler's cheques, and foreign cheque clearing through the use of CXI's innovative CEIFX web-based FX software www.ceifx.com