European Central Bank Introduces New 50 Euro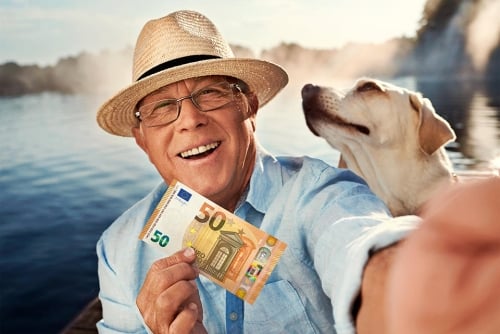 On Tuesday, The European Central Bank introduced a new 50 euro banknote that is set to start circulating on April 4, 2017. It is a step in the right direction towards an ultra-secure cash system.
"The introduction of the new €50 will make our currency even safer, its state-of-the-art security features help protect our money," said Yves Mersch, an executive board member at the European Central Bank.
This denomination is the most widely used euro banknote, and currently takes up 45 percent of all the euros in circulation, according the bank.
Overall the new banknote will be more orange in color compared to the current one, so here is the front: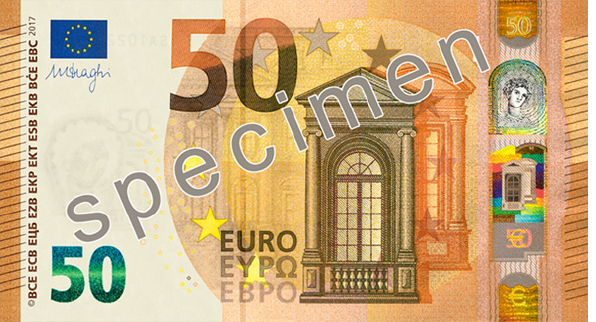 Photo: European Central Bank
And this is the back:
Photo: European Central Bank
Let's take a closer look at the new security features you should be aware of before you exchange them:
Portrait window: Look at the banknote against the light, the window near the top of the hologram becomes transparent and reveals a portrait of Europa on both sides of the note.

Portrait hologram: Tilt the banknote. The silvery stripe on the right reveals the value of the banknote and the € symbol.

Emerald number 50: Tilt the banknote. The shiny number in the bottom left corner changes color from emerald green to deep blue.

Portrait watermark: Look at the banknote against the light. A faint image showing the value of the banknote and the main image becomes visible.

Raised print: Feel the banknote. It is crisp and firm. The main image, the lettering and the large value numeral also feel thicker.

Security thread: Look at the banknote against the light. The security thread appears as a dark line and the value of the banknote can be seen in tiny white lettering.
Still curious to learn more about foreign currency? Here are five facts about the 50 euro banknote you never knew.
Want to be the first to know about currency news? Join our platinum passport now, and you'll get the latest delivered straight to your inbox.
Or perhaps you have some euros you'd like to exchange? Call one of our branch locations to get a live rate, or to reserve your currency for that next vacation.
About Currency Exchange International
Currency Exchange International (CXI) is a leading provider of foreign currency exchange services in North America for financial institutions, corporations and travelers. Products and services for international travelers include access to buy and sell more than 90 foreign currencies, multi-currency cash passport's, traveler's cheques and gold bullion coins and bars. For financial institutions, our services include the exchange of foreign currencies, international wire transfers, purchase and sale of foreign bank drafts, international traveler's cheques, and foreign cheque clearing through the use of CXI's innovative CEIFX web-based FX software www.ceifx.com