Exactly How High Can Roller Coasters Go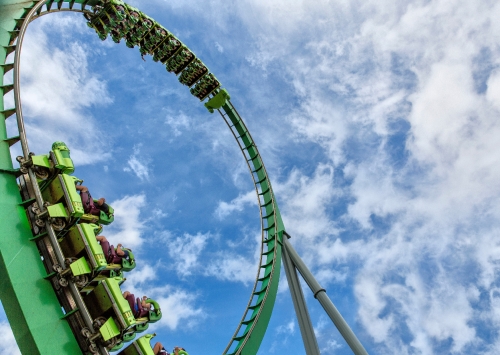 The first giga coaster ever built, Millennium Force at Cedar Point was a game-changer in terms of what was possible with height in a ride. A cable lift pulls the train up to this height rather than the traditional chain lift.
Cables are lighter, faster and quieter, making the ride up Millennium Force a smooth and speedy experience. It may have been the first giga coaster, but it is still one of the best.
Then you have the Fury 325 at Carowinds, which is the newest addition to the giga coaster family and is the tallest of the group. It cuts across a walkway and the state line.
From the moment you enter Carowinds, you can't ignore the Fury 325. That means that while you're making sense of the park map, you may be interrupted by a roaring coaster flying underneath you.
Here's how it feels: 2:10 The first drop, at an 81-degree angle, is steep and assured, sending you rushing down the first hill, accelerating at a rapid clip before you head back up into a sharp barrel turn that leads to a 190-foot drop.
The coaster maintains the breakneck pace throughout the considerable ground it covers. It's a nice long journey, and it delivers an experience both smooth and exhilarating.
Interested in seeing more adrenaline pumping roller coasters? Read more here.
Over to you
When was the last time you went on a roller coaster? What is the tallest giga coaster you've ever experienced? What theme park do you think has the best roller coasters in the world? Share your opinion and thoughts in the comments below.
About Currency Exchange International
Currency Exchange International (CXI) is a leading provider of foreign currency exchange services in North America for financial institutions, corporations and travelers. Products and services for international travelers include access to buy and sell more than 80 foreign currencies, multi-currency cash passport's and traveler's cheques. For financial institutions, our services include the exchange of foreign currencies, international wire transfers, purchase and sale of foreign bank drafts, international traveler's cheques, and foreign cheque clearing through the use of CXI's innovative CEIFX web-based FX software https://www.ceifx.com.