Exchange Your Unwanted Halloween Candy for Reese's Cups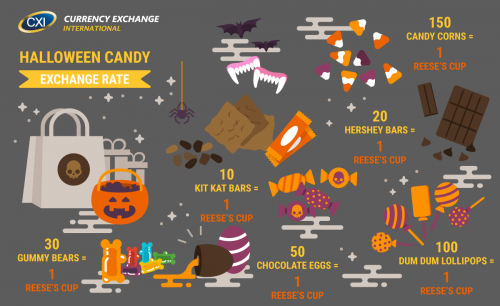 Ordering foreign currency online is easy with OnlineFX.
Tired of not knowing what to do with all of your unwanted candy you get for Halloween? So are we and Reese's.
"90 percent of Americans say that they have traded or wish they could have traded their unwanted candy on Halloween," according to Delish.
This halloween Reese's has decided to place candy converters to exchange unwanted candy for Reese's cups. Still don't believe us? Check out a tweet from Reese's below.
No tricks here. Trade in your Halloween candy for Reese's candy. What'd you expect from the GOAT of Halloween?! #ReesesCandyConverter #NotSorry pic.twitter.com/bTrjF2IFay

— REESE'S (@reeses) October 30, 2018
Exchange rate of Reese's to other unwanted candies
As currency experts, we've decided to propose what the exchange rate is on other candies to a Reese's cup. Do you agree or disagree? We're not sorry, but let us know in the comments below.
Where to exchange unwanted candy for Reese's
You can find these candy converters in New York City on Halloween. They'll be stationed on 5th Avenue between Washington Square North and East 8th Street.
Be sure to be there from 4 pm - 9 pm, and plan to arrive early so you don't miss your chance!
About Currency Exchange International
Currency Exchange International (CXI) is a leading provider of foreign currency exchange services in North America for financial institutions, corporations and travelers. Products and services for international travelers include access to buy and sell more than 90 foreign currencies, multi-currency cash passport's, traveler's cheques and gold bullion coins and bars. For financial institutions and corporations, our services include the exchange of foreign currencies, international wire transfers, global EFT, the purchase and sale of foreign bank drafts, international traveler's cheques, and foreign cheque clearing through the use of CXI's innovative CEIFX web-based FX software www.ceifx.com