How Do Currency Exchange Rates Work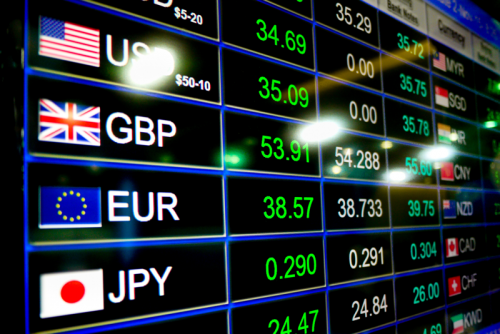 Ordering foreign currency is easy with OnlineFX.
As many international travelers get ready for that next trip abroad, do you ever take a moment to understand how exactly currency exchange rates work?
The exchange rate between two currencies is the price of a country's currency in relation to another currency. This is called a currency pair, and one of the most common currency pairs, for example, would be USD/EUR.
How to read a currency pair?
Every currency pair consists of two currency codes, and each code represents a specific currency of a country you're looking to exchange your currency into. For example, when you see the currency pair USD/EUR, reading this correctly would mean 'x' amount of US Dollars (USD) against ( / ) 'x' amount of euros (EUR).
What makes your US dollar worth more than another currency?
In this crash course video, you'll learn more in-depth knowledge about imports, exports, and exchange rates to better understand how globalization and free trade increases overall wealth. In addition to import and exports, the other factors for free-floating currencies are usually:
Geopolitical events such as international policies, wars, and conflicts
Economic trends such as GDP, employment rate, and international trade
Good old fashion speculation. Trillions of dollars' worth of currencies are trading hands every day and the supply and demand of these currencies continue to move the currency rates
Which currency exchange equation should I use?
If you're looking to buy or sell foreign currency and you're given CXI's exchange rate, then you would use this equation to calculate how much it would cost you:
Let's say you want 1,000 euros, and want to know what it costs in US dollars. Multiply 1,000 euros by 1.1604 (exchange rate) = $1,160.40 US dollars.
Let's say you have 1,000 euros, and you want to sell them in exchange for US dollars. Multiply 1,000 euros by 0.9845 (exchange rate) this means you will get $984.50 US dollars.
Related blog posts:
About Currency Exchange International
Currency Exchange International (CXI) is a leading provider of foreign currency exchange services in North America for financial institutions, corporations and travelers. Products and services for international travelers include access to buy and sell more than 90 foreign currencies, multi-currency cash passport's, traveler's cheques and gold bullion coins and bars. For financial institutions and corporations, our services include the exchange of foreign currencies, international wire transfers, global EFT, the purchase and sale of foreign bank drafts, international traveler's cheques, and foreign cheque clearing through the use of CXI's innovative CEIFX web-based FX software www.ceifx.com