How Does Multi-Currency Cash Passport Work
Jacquelyn
April 19th, 2017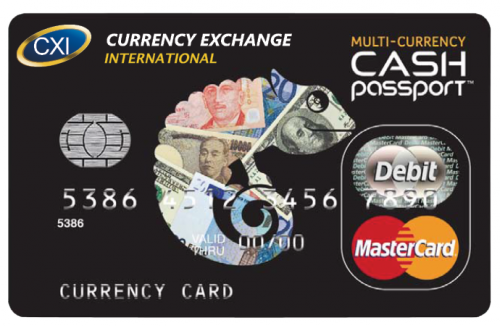 Ordering foreign currency is easy with OnlineFX.
Be aware, effective Monday, April 26, 2021, Multi-Currency Cash Passport Prepaid MasterCard is terminating its services in the US and ending its agent relationship with CXI. CXI will no longer offer Multi-Currency Cash Passport.
For balance inquiries or support questions, please contact MasterCard Passport's Servicing Center, they will still be operating and available to assist with paying out balances.
Visit our international traveler's solutions page for all available services we provide.
What currencies can I load on a Multi-Currency Cash Passport?
Australian dollar (AUD)
British pounds (GBP)
The Canadian dollar (CAD)
European Union euros (EUR)
Japanese yen (JPY)
Mexican peso (MXN)
What are the benefits of a Multi-Currency Cash Passport?
Safer and more convenient than carrying only cash.
Reduces the risk of fraud - no personal information is stored on the card.
If your card is lost or stolen, you can call the Cash Passport Card Services team and they'll provide a replacement card or emergency cash from your card balance*.
24/7 emergency assistance is available*.
Simultaneously and safely carry multiple currencies on one card.
Lock in the exchange rate for your travel money.
View transaction history and balance of your Multi-Currency Cash Passport online.
​
What are the fees of a Multi-Currency Cash Passport?
CXI Fees: $5 fee if less than $500 USD; $10 fee if $500 USD or more
ATM Fees: Domestic: $2.50; International: $2.50 USD, 2 GBP, 2 EUR, $2.50 CAD, $2.50 AUD, 215 JPY
What are the minimum and maximum initial load and reload amounts?
Minimum Initial Load and Reload: $200 US Dollars
Maximum Initial Load and Reload: $8,500 US Dollars
*Subject to network availability.
**Subject to additional terms and conditions.
See more blog posts >

Subscribe to platinum passport >
About Currency Exchange International
Currency Exchange International (CXI) is a leading provider of foreign currency exchange services in North America for financial institutions, corporations and travelers. Products and services for international travelers include access to buy and sell more than 90 foreign currencies, multi-currency cash passport's, traveler's cheques and gold bullion coins and bars. For financial institutions and corporations, our services include the exchange of foreign currencies, international wire transfers, global EFT, the purchase and sale of foreign bank drafts, international traveler's cheques, and foreign cheque clearing through the use of CXI's innovative CEIFX web-based FX software www.ceifx.com