How to Cash an International Check
Jacquelyn
August 16th, 2018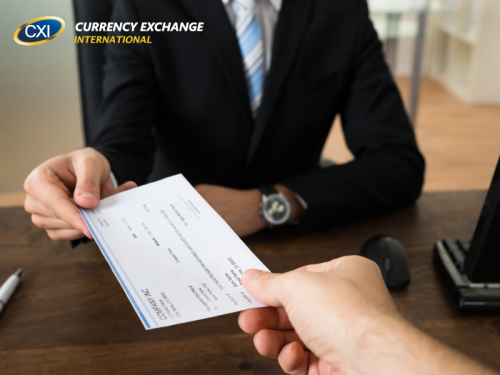 Contact us to become a CXI client.
Is your financial institution or corporation tired of waiting and dealing with the long process it usually takes to cash an international check? Along with all the run around and risks involved when trying to cash an international check?
Then look no further because Currency Exchange International offers an all-inclusive platform for processing foreign check items in a safe and secure environment, the CEIFX online software.
What is Digital Remote Deposit for Canadian Checks
CXI introduced Digital Remote Deposit for Clearing Canadian Checks. It's the new solution for corporations and financial institutions to clear all foreign checks drawn on Canadian financial institutions.
At CXI, we're ready to help financial institutions and corporations manage their foreign check clearing needs by consolidating the process to minimize conversion costs and time.
This compliance-focused experience will automate your foreign check clearing process for more than 80 currencies, with state of the art technology designed to help bring you foreign exchange solutions.
Schedule a call now with Currency Exchange International for more information about Foreign Check Clearing. Still interested in learning more? Here's a full list of foreign exchange services CXI can offer you.
About Currency Exchange International
Currency Exchange International (CXI) is a leading provider of foreign currency exchange services in North America for financial institutions, corporations and travelers. Products and services for international travelers include access to buy and sell more than 90 foreign currencies, multi-currency cash passport's, traveler's cheques and gold bullion coins and bars. For financial institutions and corporations, our services include the exchange of foreign currencies, international wire transfers, global EFT, the purchase and sale of foreign bank drafts, international traveler's cheques, and foreign cheque clearing through the use of CXI's innovative CEIFX web-based FX software www.ceifx.com