Is Cinco de Mayo Celebrated More in The U.S. Than in Mexico?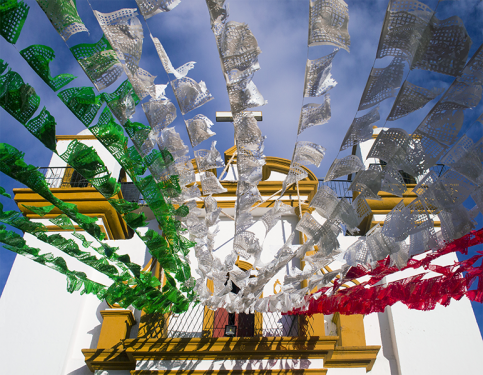 Ordering foreign currency online is easy with OnlineFX.
Cinco de Mayo, not to be confused with Mexican Independence Day, is celebrated on the fifth of May. It commemorates the Mexican army's victory of France at the Battle of Puebla.
While this is a relatively minor holiday in Mexico, Cinco de Mayo has become a big celebration in the United States to celebrate Mexican culture and heritage.
If you're a lucky traveler who's going to Mexico, don't forget your Mexican pesos. Now let's see how it's celebrated in Mexico and compare it to how it's celebrated in the US.
In Mexico
In Mexico, the only place that really celebrates Cinco de Mayo is where the battle actually took place, Puebla. The day begins with a huge parade in Puebla where locals reenact the war.
There are a variety of brightly-colored floats throughout the parade. Pinatas are a must on Cinco de Mayo in Mexico and are typically filled with candies and cookies. Mexico City does also host a big parade with dance and reenactments.
Traditional Foods: Chicken tinga and mole poblano (a thick sauce usually served over chicken)
Traditional Drinks: Agua fresco – flavored water combined with fruits, seeds, and flowers
In Los Angeles
Los Angeles has a variety of ways to celebrate Cinco de Mayo. Olvera Street, the heart of the historic Mexican marketplace area, holds festivities for three days. Live music, dancing, authentic folk performers, and even pinatas can be found during the weekend long celebration.
If you're looking for nightlife on Cinco de Mayo head over to La Plaza de Cultura y Artes. With Mexican street food, drinks and DJs, you can enjoy this adult party with some Mexican culture.
Traditional Foods: tacos and burritos
Traditional Drinks: margaritas and tequila
In Chicago
Chicago holds an annual parade on Cinco de Mayo. The parade kicks off at noon on May 6th on Cermak Road and Damen Avenue.
However, if you're looking for a good meal, there are a variety of restaurants offering special meals to celebrate the holiday. Carnivale even hosts a mariachi band to help you celebrate.
Traditional Foods: variety of Mexican cuisine
Traditional Drinks: margaritas
In Denver
This year will be Denver's Cinco de Mayo "Celebrate Culture" Festival's 31st anniversary. Lasting two days, May 5-6, there is live entertainment all day long from Mariachi and Cumba to Salsa and Norteno.
Not only do they have a Green Chili Bowl Cook Off but their contests include a taco-eating contest and a Chihuahua race. There's plenty of activities for children as well at the Children's Carnival that has activities and rides.
Traditional Foods: green chili and tacos
In Miami
If you're in South Florida during Cinco de Mayo, you know the place to celebrate is Mary Brickell Village. Their annual celebration is full of sombreros, mustaches, tequila shots, premium Margaritas and Mexican beer.
The block party has multiple DJs, mariachi, dancers and more. The event will now be waterfront at their new location between W Hotel and Bank of America.
As you can see, while Cinco de Mayo celebrates a historic victory in Mexican history, the U.S. seems to throw a more extravagant celebration for this holiday.
Cinco de Mayo is not even a federal holiday meaning offices, banks and stores remain open and celebrations mainly occur in the state of Puebla. Meanwhile cities all across the U.S. hold parties and events focused more on Mexican culture rather than the actual victory.
Traditional Foods: tacos
Traditional Drinks: margaritas, Mexican beer, and tequila
About Currency Exchange International
Currency Exchange International (CXI) is a leading provider of foreign currency exchange services in North America for financial institutions, corporations and travelers. Products and services for international travelers include access to buy and sell more than 90 foreign currencies, multi-currency cash passport's, traveler's cheques and gold bullion coins and bars. For financial institutions and corporations, our services include the exchange of foreign currencies, international wire transfers, global EFT, the purchase and sale of foreign bank drafts, international traveler's cheques, and foreign cheque clearing through the use of CXI's innovative CEIFX web-based FX software www.ceifx.com