Orion Travel Eliminates Airline Baggage Fees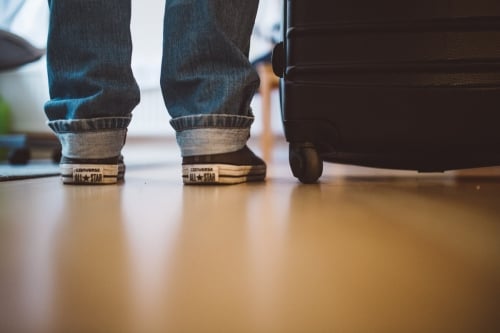 As airlines have struggled over the years, many of them have turned to charging fees for "Extras" like snacks, in-flight entertainment and checked baggage.
One company has figured out a way to help you avoid those pesky fees, but you'll have to do something in return.
Orion Travel Tech, founded by a former Continental Airlines flight attendant, offers passengers the opportunity to turn their luggage into mobile billboards in exchange for covering checked bag fees.
"A family wants to travel to Disney World and it will cost them $250 in baggage fees, and that makes a dent in their budget," creator Gary German told TODAY.com.
German said his background in both the airline and marketing worlds sparked his idea for the company.
In return for you toting these advertisements, Orion will cover all round trip baggage fees by providing you with a $50 gift card that can be recharged.
So what's the catch? German said there are no hidden fees.
In order to make sure travelers were getting the best experience possible, he removed the initial $19.99 annual membership fee that was going to be implemented when the program launches at the end of November.
About Currency Exchange International
Currency Exchange International (CXI) is a leading provider of foreign currency exchange services in North America for financial institutions, corporations and travelers. Products and services for international travelers include access to buy and sell more than 80 foreign currencies, multi-currency cash passport's and traveler's cheques. For financial institutions, our services include the exchange of foreign currencies, international wire transfers, purchase and sale of foreign bank drafts, international traveler's cheques, and foreign cheque clearing through the use of CXI's innovative CEIFX web-based FX software https://www.ceifx.com.