Reserve Bank of Australia Announces New 5 Dollar Banknote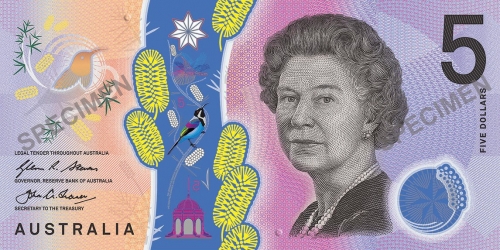 Photo: Reserve Bank of Australia
The Reserve Bank of Australia has announced a new 5 dollar banknote will soon start circulating on September 1, 2016. It will be the first denomination to be released for their next generation of banknotes.
Australian Governor, Glenn Stevens said, "The new banknotes will have a range of security features that have not previously been used on an Australian banknote. The new series will also include a 'tactile' feature to help the vision-impaired community distinguish between different denominations of banknotes."
On top of enhanced security measures, they will change the design for a more fresh and modern feel as well to accommodate the new security features. Now the color tones, people and size will remain the same.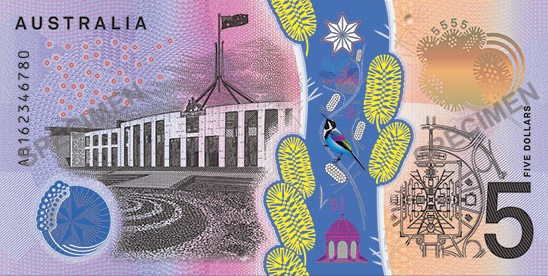 Australian dollar back
Also the banknote will continue to be printed on plastic. And although this new banknote will begin circulation this year, all banknotes issued by the Reserve Bank of Australia will remain legal tender, so you can still use them.
The most notable new feature for the next generation of banknotes you will see is a variety of Australian wattle on each denomination. And since Australia celebrates National Wattle Day on September 1, it explains the reason why they have selectively chosen that date for release.
For more updates on the Australian banknote and many more, join our platinum passport today to get the latest news with our forex trends. And before you leave, stay informed by watching some current security features on Australian banknotes.
About Currency Exchange International
Currency Exchange International (CXI) is a leading provider of foreign currency exchange services in North America for financial institutions, corporations and travelers. Products and services for international travelers include access to buy and sell more than 90 foreign currencies, multi-currency cash passport's, traveler's cheques and gold bullion coins and bars. For financial institutions, our services include the exchange of foreign currencies, international wire transfers, purchase and sale of foreign bank drafts, international traveler's cheques, and foreign cheque clearing through the use of CXI's innovative CEIFX web-based FX software www.ceifx.com