Russia Stops Foreign Currency Purchases In Push For Relief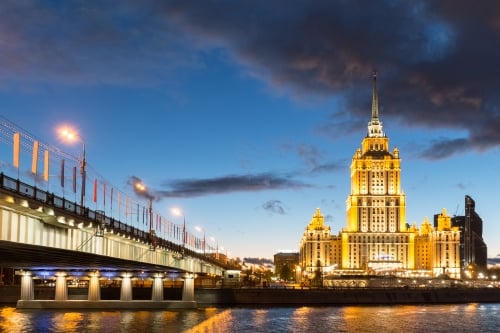 Photo by Sergey Norin
The interventions, compounded by a slump in oil prices, have sent the Russian currency tumbling more than 17 percent since the central bank began its push to rebuild reserves in mid-May, the world's worst performance in that period.
"The central bank has some concerns that the weaker currency may jeopardize its inflation objective," said Ivan Tchakarov, an economist at Citigroup Inc.
The central bank will cut their key rate by a half point to 11 percent at their July 31 meeting, according to 25 of 34 forecasts in a Bloomberg survey.
"The Bank of Russia has repeatedly stated that it will minimize the impact of operations to replenish international reserves on the currency market, quickly adjusting the volume of purchases," the central bank said in an e-mailed statement.
The central bank, which allowed the ruble to trade freely last year, has bought about $10 billion since resuming currency purchases on May 13.
The Bank of Russia has defended the interventions as compatible with its free float.
The ruble's performance this week may determine what action the central bank will take, according to Liza Ermolenko, an analyst at London-based Capital Economics Ltd., which predicts a decrease of 50 basis points by the central bank.
According to this news, if you're planning to travel to Russia soon or within the next year, now is the perfect time to purchase Rubles because they've stopped accepting foreign currency. Also, the rate in the market can fluctuate, but once the cash is in your hands that becomes one less worry for you.
This article originally appeared on bloomberg.com
Over to you
Do you think the Central Bank of Russia is taking the right course of action? When was the last time you took a trip to Russia? What do you think is the biggest change you've seen since the last time you were there? Share your thoughts and experience in the comments below.
About Currency Exchange International
Currency Exchange International (CXI) is a leading provider of foreign currency exchange services in North America for financial institutions, corporations and travelers. Products and services for international travelers include access to buy and sell more than 80 foreign currencies, multi-currency cash passport's and traveler's cheques. For financial institutions, our services include the exchange of foreign currencies, international wire transfers, purchase and sale of foreign bank drafts, international traveler's cheques, and foreign cheque clearing through the use of CXI's innovative CEIFX web-based FX software https://www.ceifx.com.