Secret Banknote Discovered Inside Ancient Sculpture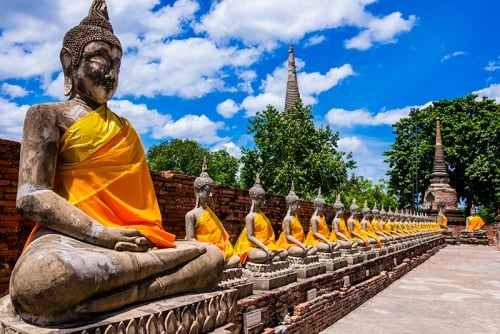 This 700 year old banknote is a unique hidden gem that was found while inspecting a 14th century Buddhist sculpture. The head of Asian art, Ray Tregaskis found it at an auction house in Australia.
It was discovered on the inside of the sculpture's brain. After taking a closer look at the banknote, they found out it was a Ming Dynasty banknote. This is considered to be one of the first printed Chinese currency recorded in history.
"It's typical to find materials such as mantra rolls, relics, grains, incense and semi-precious stones that have been placed inside gilt bronze sculptures by a monk or lama, but never heard of anyone finding money before" said Luke Guan, a Mossgreen Asian art specialist.
The banknote will be on a world tour around the world this fall and you can see it in London from November 3 - 6 and Hong Kong from November 24 - 27. It will return for auction to Mossgreen in Sydney, Australia in December.
About Currency Exchange International
Currency Exchange International (CXI) is a leading provider of foreign currency exchange services in North America for financial institutions, corporations and travelers. Products and services for international travelers include access to buy and sell more than 90 foreign currencies, multi-currency cash passport's, traveler's cheques and gold bullion coins and bars. For financial institutions and corporations, our services include the exchange of foreign currencies, international wire transfers, global EFT, the purchase and sale of foreign bank drafts, international traveler's cheques, and foreign cheque clearing through the use of CXI's innovative CEIFX web-based FX software www.ceifx.com