These Facts About US Dollar Bills Will Blow Your Mind
Jacquelyn
August 2nd, 2018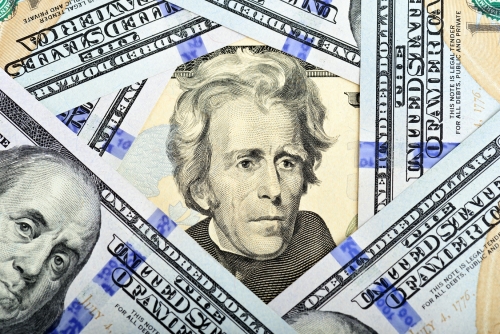 Ordering foreign currency is easy with OnlineFX.
Have you ever looked closely at your dollar bills? There are many features present on dollar bills that most people don't even notice when exchanging money. Here are some reasons behind those added designs as well as some other fun facts about the U.S. dollar.
The $1 has received some experimentation
The Bureau of Engraving attempted a cheaper way of printing, called "web printing," from 1992 to 1996. Although the agency stopped printing this way, the money is still legal tender and actually very valuable.
These bills can be identified by a little number to the right of "Trust" in the motto. You can discover if you have one of these bills by seeing if they say either Series 1988A, Series 1993, or Series 1995.
The $1 bill costs 5.6 cents to produce
With each note costing less than 6 cents, the $1 bill is the cheapest note to produce. This is pretty cheap considering the average $1 bill circulates for only 5.8 years. Meanwhile, the highest costing bill to produce is the $100 bill at 13.2 cents per note.
3/4 of a bill is good enough
A bill that has been taped back together can be replaced by a bank. Turns out, you only need to have three-quarters of the bill in order to exchange it for a new one. However, it's important to note that key security features are still intact.
The $1 bill remains unchanged
The $1 bill is the only bill that has not been redesigned in the past decade. Our current $1 bill is has remained unchanged since 1963. This is due to the fact that it is infrequently counterfeited. In contrast, the $100 bill is the most recent to have been redesigned.
The 13 step pyramid remains unfinished
The pyramid on the $1 bill has 13 steps to represent the original colonies. However, you can see that it is unfinished to symbolize that our country can constantly be improved.
The dollar bill also contains a couple of other representations of the 13 colonies. The Great Seal has 13 stripes and 13 stars. Also, if you look closely at the eagle on the back of your $1 bill you will see 13 arrows in its left talon.
There's more than bacteria residing on our dollar bills
Many people are aware that dollar bills do collect bacteria over time. However, a study was done revealing that 90 percent of paper money in U.S. cities hold traces of cocaine. It actually showed up 100 percent of the time in Detroit, Boston, Orlando, Miami, and Los Angeles.
Find out where your bills were issued
You can find out which bank issued your bill by looking at the serial number that contains two letters and eight numbers. The first letter specifies which bank issued that bill. The letters stand for:
A = Boston

B = New York

C = Philadelphia

D = Cleveland

E = Richmond

F = Atlanta

G = Chicago

H = St. Louis

I = Minneapolis

K = Dallas

L = San Francisco
Track your dollar
Using the site Where's George, you can enter the serial number of a bill in order to track where it's been. You can even choose to get notifications of where your bills are found in the future.
There's a lot that goes into creating currency. As you probably noticed, a lot of the little details go unnoticed by consumers every day. Knowing the history behind your currency as well as the intricate design features could even help you differentiate a counterfeit bill from a real one in your everyday life.
About Currency Exchange International
Currency Exchange International (CXI) is a leading provider of foreign currency exchange services in North America for financial institutions, corporations and travelers. Products and services for international travelers include access to buy and sell more than 90 foreign currencies, multi-currency cash passport's, traveler's cheques and gold bullion coins and bars. For financial institutions and corporations, our services include the exchange of foreign currencies, international wire transfers, global EFT, the purchase and sale of foreign bank drafts, international traveler's cheques, and foreign cheque clearing through the use of CXI's innovative CEIFX web-based FX software www.ceifx.com