Top 10 Most Traded Currencies in the World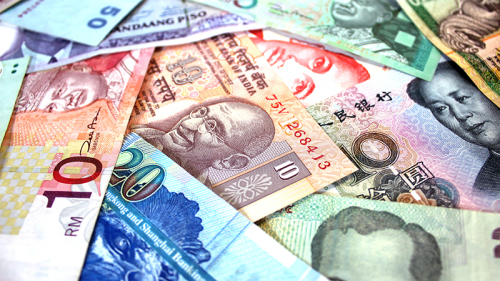 Ordering foreign currency is easy with OnlineFX.
Did you know $6.6 trillion worth of currency is exchanged each and every day in 2019? Well it's true according to Bloomberg.
While this number doesn't tell us much, there's more to learn about the currencies that make up this number. Check out these remarkable facts about what makes some of these currencies so popular.
Why the U.S. Dollar Wins by a Landslide?
The U.S. dollar is the most traded currency in the world not only because it is widely accepted in other countries, but because it serves as the unofficial global reserve currency.
Investopedia shares this is due to the fact that "at one time, its GDP represented 50% of the world's output." The dollar is also used many times as a benchmark for other countries to set their exchange rates.
The Euro Tries to Catch Up
The Euro wasn't introduced to the world markets until January 1, 1999; However, it has quickly grown to be the second most traded currency today.
Just as the U.S. dollar is used as a benchmark, many nations within both Europe and Africa base their currencies to the euro to stabilize the exchange rate.
The Yen Comes in 3rd
While the Yen serves as the official currency of Japan, it is also Asia's most traded currency. Just like the U.S. dollar serves as a reserve currency, the yen acts very similarly for many Asian countries.
According to financial sense, "During times of uncertainty, such as the prelude to the Brexit vote, investors tend to gravitate toward the Japanese yen."
This can be attributed to the fact that Japan is one of the world's largest exporters, in dollar terms. Did any of these currencies landing in the top 10 surprise you? Let us know in the comments below.
About Currency Exchange International
Currency Exchange International (CXI) is a leading provider of foreign currency exchange services in North America for financial institutions, corporations and travelers. Products and services for international travelers include access to buy and sell more than 90 foreign currencies, multi-currency cash passport's, traveler's cheques and gold bullion coins and bars. For financial institutions and corporations, our services include the exchange of foreign currencies, international wire transfers, global EFT, the purchase and sale of foreign bank drafts, international traveler's cheques, and foreign cheque clearing through the use of CXI's innovative CEIFX web-based FX software www.ceifx.com